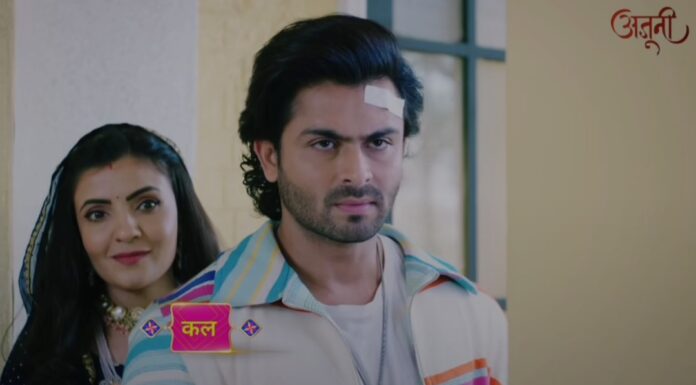 Ajooni Spoilers, Upcoming Story, Latest Gossip , Future Story, Latest News and Upcoming Twist on SerialGossip.in
Shoaib Ibrahim and Ayushi Khurana starrer Ajooni is Star Bharat show. This show is about how, despite coming from a middle-class family with strong family values, Ajooni is compelled to marry the guy she despises the most.
Now, Rajveer thinks that Ajooni is having an affair with Harsh that's why she want to kill him so it will be intresting to watch that what going to happen in the future episodes.
In the current track, Ravinder points a gun at Harvinder. Rajveer lies that he load a gun to save Harvinder. Ravinder advices Ajooni to not play with dangerous things. Rana informs Ravinder that Tejinder returned from village.
Tejinder catch Rana red-handed and beat him up. He tells himself that he is Ravinder's death. Next day, Rajveer wonders that why Ajooni want to kill him. He goes to Shikha and notices her handwriting. He realises that it's same handwriting as handwriting of the letter which he found in his photo album.
He asks her about letter and also why Ajooni is doing all this. Shikha tells him that Ajooni is having an affair with Harsh. Ajooni is about to fall due to soap water and Harsh saves her. Shikha shows that to Rajveer.
Later, Rajveer tries to get close to Ajooni but she pushes him. He says that he know she want him dead because she has an affair with Harsh. Ajooni tells him that Harsh is just a worker for her and she don't have proof to prove her innocence.
In the upcoming episode, Ajooni will hope that holi goes well. Harsh will make Rajveer unconscious and put him inside Holika Dahan.
Will anyone notice Rajveer? Will Rajveer regain his consciousness?
Will Harsh get caught?
All these questions will be answered in the upcoming episodes.
To know what will happen next in your favorite show Ajooni, stay tuned to this space.