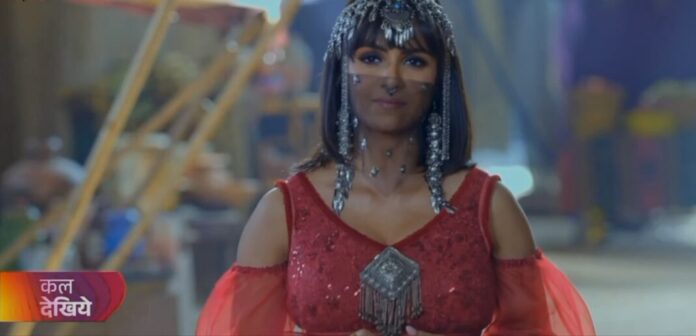 Ali Baba-Dastaan-e-Kabul Spoilers, Upcoming Story, Latest Gossip , Future Story, Latest News and Upcoming Twist on SerialGossip.in
Sab TV show Ali Baba-Dastaan-e-Kabul will witness a shocking twist very soon. The show revolves around Ali and Mariam's struggle to save Kabul from the terror of Iblis and his forty thieves. Simsim is trying her best to wake Iblis up by getting the Talisman gem but will she succeed? that will be interesting to watch.
In previous episode, Simsim learns Khusro has idea that she is turning the people into puppets. She instigates Abdali and he doubts Khusro is telling the truth or not. Khusro says they should focus on people's safety.
Later Simsim tells Abdali that she will go to the Zamad Khana and he should find the saviour. Abdali finds Khusro hiding his face. Before he can see him the running man saves Khusro.
Abdali faints and later Simsim tries to attack Khusro being the shadow but the mysterious person saves him.
Simsim feels he might be magician Mustafa. Poya takes unconscious Khusro to his house. Nazia treats him and she says without Ali who will earn money for them. They will die out of hunger. Simsim gets into thinking.
In future episode viewers will see, Simsim will tell Abdali to call everyone to find whose ring is this which he found. It might be of the Saviour. Khusro will think he cannot wear that else he will get caught.
When will Ali come back?
To know what will happen next in your favourite shows, stay tuned to this space.