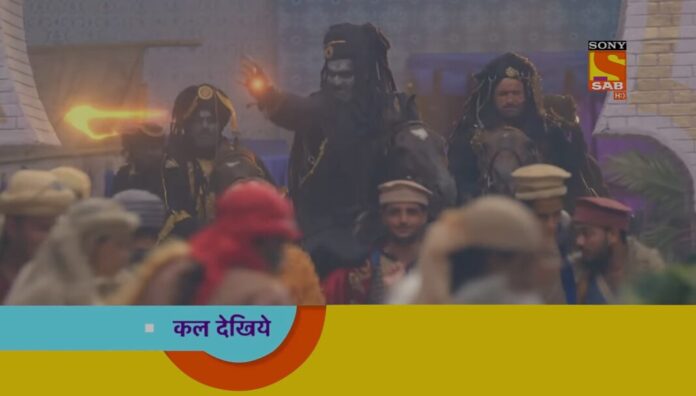 Ali Baba-Dastaan-e-Kabul Spoilers, Upcoming Story, Latest Gossip , Future Story, Latest News and Upcoming Twist on SerialGossip.in
Sab TV launched a brand new show named Ali Baba-Dastaan-e-Kabul starring Sheezan Khan and Tunisha Sharma. The shows revolves around Ali and Mariam's struggle to save Kabul from the terror of Iblis and his forty thieves.
Simsim is trying her best to wake Iblis up by getting the Talisman gem but will she succeed that will be interesting to watch.
In previous episode, Ali gets shocked on finding he is holding Mariam's hand not Fatima's. He asks her why she is wearing Fatima's clothes. Mariam gets confused and Khurram's men catch both of them.
Mariam and Ali have an argument. Mariam blames him for holding her hand. Ali says he thought she is Fatima. He also teases her for her royal accent. They get captivated in a confined place. Baizaad threatens Ali not to help Mariam else he will get the worst punishment.
Ali feels helpless and blames Mariam as he feels they are trapped because of her. Mariam tells him to find a solution as they are in danger. Saddam gets the information about Sehzaadi is caught again and he goes to identify her.
There Simsim gets disappointed knowing Mariam only had one part of the Talisman, not both the parts. She gets mad at Mustafa for breaking it into two parts. Mariam misunderstands Ali that his orphan kids are his own kids and she gets surprised.
In future episode viewers will see, Simsim will turn the thieves into some different people and will tell them to use greed to get the Talisman. There Ali will fall on Mariam by mistake
When will Ali realise about his power?
Will Ali be able to save Mariam from Saddam?
To know what will happen next in your favourite shows, stay tuned to this space.