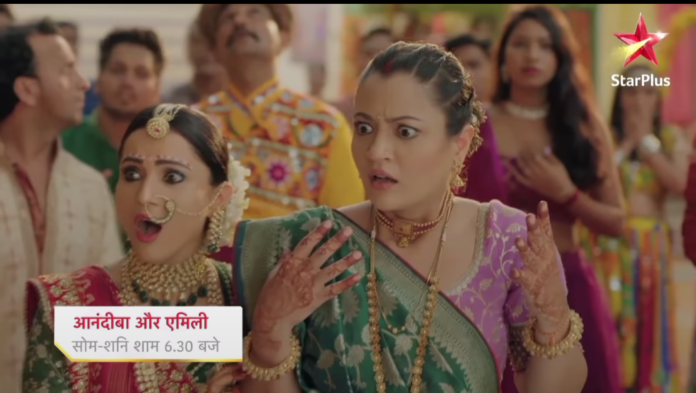 Anandibaa Aur Emily Spoilers, Upcoming Story, Latest Gossip , Future Story, Latest News and Upcoming Twist on SerialGossip.in
Star Plus popular daily soap Anandibaa Aur Emily is all set to serve the audiences with a high voltage drama, along with the ongoing plot. Previously, Anandibaa permitted Aarav to take Emily to America for Pag-phera ritual.
Gunjan tried to manipulate Anandibaa in order to stop her sending Aarav and Emily away from there. She worried that if Aarav goes away with Emily, then he won't return back. Whereas, Anandibaa gets exited to be away from Emily for sometimes. Meanwhile, Aarav gets elated to fulfill his dream, but Harsha and Chirag spoiled his planning.
In the current track, Harsha claims Emily to be her daughter-in-law and proclaims that the latter married her son Chirag before Aarav. She also says that as soon as they took Emily to their house, she runs away from there. She proclaims that Aarav and Emily's marriage isn't legal, while everyone gets shocked.
Here, Emily denies all the allegations and proclaims that she didn't married Chirag. Anandibaa confronts her to tell the truth, but she stays firm on her statement. Anandibaa decides to find about the matter and declares to expose the truth soon in front of everyone.
Emily gets worried and tries to call the God. She ask him to show her the past, so that she will get confident on her statement. He insists her to have trust on him and then disappears. Whereas, Anandibaa ask Aarav to postponed his tickets to America.
Ahead, Anandibaa prohibits Aarav from leaving the place till everything gets clear. Meanwhile, Gulai helps Chirag and his family, while Aarav and Jaman confronts them and proclaims tgat Emily got married to only Aarav, but Harsha declare that her son Chirag married her before Aarav and gets into an argument with Aarav and Jaman.
Gunjan and Pinky enjoys the drama and proclaims to throw Emily out of the house. Whereas, Anandibaa determines to find the proofs. Harsha tries to take Emily along with her forcefully but Anandibaa takes a stand for the latter andbfaces Harsha fiercely. She protects Emily from going with them, while the latter shows her gratitude towards Anandibaa.
Later, Payal ask if Emily have any twin? To which the latter denies. Meanwhile, the police comes there and Harsha along with her family gets worried.
The police officer assures to find about the truth and notify that the case went to the family court and proclaims that they will tell the judgment. She also warns everyone not to leave the place, till the case gets solved.
Now in the upcoming episode, Jaman will tell a plan to Aarav and they will feed a spiked dhokla to Emily. They will follow an intoxicated Emily in order to check that whether she knows the way to the temple or not, where Harsha is proclaiming that she got married to Chirag.
Aarav, Jaman and Payal will reache the temple following Emily and gets shocked seeing Chirag marrying a girl. The girl will express her worry to Chirag stating that what if he will have to marry Emily for real? while at that time Chirag's family also spots Aarav and gets tensed.
Will Aarav be able to save Emily?
Will Anandibaa find about the truth?
It would be interesting to see what happens next on the show.
Stay tuned with us for more news, Spoilers and written updates of Anandibaa Aur Emily.