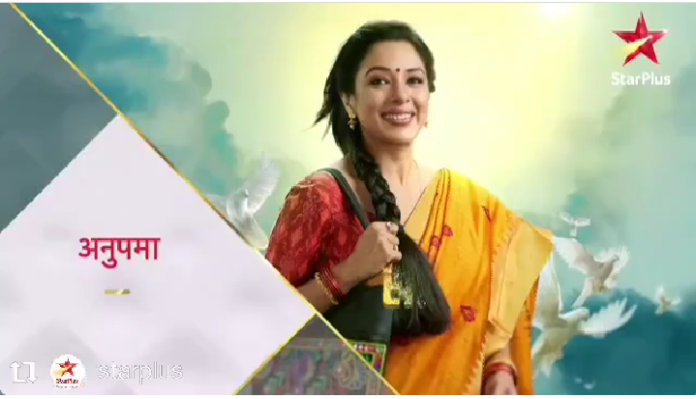 Anupama 10th September 2021 Written Update on TellyExpress.com
Today's episode starts with Anuj smiling seeing Anupamas tiffin box. GK come and asks Anuj what he is thinking. Anuj says to GK that Anupama is like his mother. He adds from taking divorce to staying back at the house for her children, only a woman can do that. Anuj says but he has a complaint with Anupama that she never realised her potential. GK asks Anuj to be Anupamas support. Anuj says Anupama is a strong woman and doesn't need anyone.
Ahead, Vanraj asks Samar if he is good or not. Samar nods yes and leave. Vanraj asks Anupama if she had a talk with Samar or not. Anupama says to Vanraj that she tried to make Samar understand. Kavya interrupts and informs to Vanraj that she fetched Anuj's number. She asks Vanraj to look presentable. Kavya asks Anupama to get ready as well as they will need her to befriend Anuj. She adds once their friendship will be done, than they will not need her. Anupama refuses to accompany Kavya and Vanraj. Vanraj asks Kavya not to force Anupama if she doesn't want to come.
Afterwards, Anuj gets ready to meet Anupama. GK pulls Anuj's leg. Vanraj and Kavya wait to meet Anuj. Anuj calls Vanraj and Kavya. Kavya see GK sitting on Anuj's chair and says to him that he is cool as allowing domestic help to share the main chair. Anuj gets irked with Kavya and tells her that GK is his whole world and one who doesn't respect GK, he too doesn't pay attention to that person. Kavya apologize to GK.
Later, Anupama come and surprises Anuj by joining the conference. Vanraj asks Anupama if her respect would have been down by accompanying them. Anupama tells to Vanraj that Kinjal and Hasmuk insisted her. Anuj over hears Vanraj and Anupamas argument. There, Leela asks Hasmuk why he send Anupama to Anuj. Hasmuk says if she is having problem because anuj is Anupama friend. He adds she can bear Vanraj's affair but not Anupamas friendship.
Furthermore, Kavya shows her presentation to Anuj. Here, Samar and Nandini longs for each other. Hasmuk confront Samar and tries to make latter understand not to let go his love simply. Anuj gets impress with Vanraj and Kavya's presentation.
Samar recalls his moment with Nandini. Kavya and Vanraj asks Anuj to let them know about his decision. Anuj asks Anupama to detail his presentation. He says he is waiting. GK says from past 26 years. Vanraj says to GK if he said something. GK nods no. [Episode Ends]
Precap: Anuj stops Anupama from leaving the cabin. Vanraj asks Anupama why Anuj stopped her. Anupama replies to return box. Vanraj gets unsatisfied with Anupamas answer.