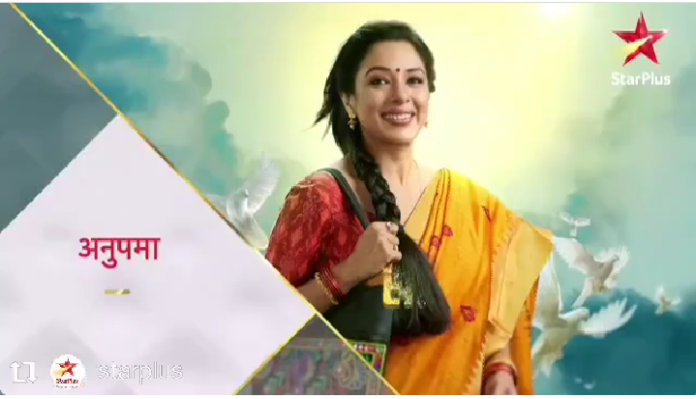 Anupama 20th October 2021 Written Update on SerialGossip.in
Today's episode starts with Vanraj standing shocked reading a note. There, host welcome everyone for the garba night. Samar wait for Rohan. Someone come from the back and shock Samar. Anupama says there is no worry as Shah's are with Samar and Nandini. She switch-off the light. Rohan come and says Samar's life lie in Anupama thus, he needs to harm Anupama. He smirks.
Here, Vanraj and Paritosh asks Samar to be together and stay alert. Samar nods yes. Kavya come and Vanraj gets smitten seeing former. Kavya asks Vanraj what happened. Vanraj compliment Kavya. Kavya smile and asks Vanraj to focus on winning Best couple award. Vanraj replies he already won his award. Kavya wish to win the award. Kinjal and Pakhi stay with Nandini. They asks Nandini not to worry. Nandini asks for Anupama. Devika reply Anupama is stuck with some work. Samar asks Anuj where is he? Anuj reply to Samar that he will reach soon.
Rohan says Samar will think he will avenge him but he will do unthinkable. He was about to attack Anupama but see Anuj. Anupama bumps into Anuj and asks what is he doing here. Anuj says to Anupama he already informed him that he will come. Anupama apologize to Anuj for not seeing his message. Anuj refuse to enter the venue thinking everyone will accuse Anupama. Anupama asks Anuj to attend the garba party. Rohan think he would have attacked on Anupama but Anuj interrupted.
Later, Anupama and Anuj enter the venue together. Vanraj and Leela gets stunned seeing Anuj with Anupama. Anuj find GK. Rohan think he won't let go second chance to harm Anupama. Anupama does garba with other ladies out there. In the meantime, Anuj learn Samar didn't reveal to Vanraj and Shah's about his fight with Rohan. He confront Samar about the same. Anuj asks Samar to go and reveal to Vanraj and Anupama about the same. Samar refuse to spoil the day and decide to tell them later.
Rohan attempts an attack on Anupama. Anuj blocks Rohan and gives a stern warning to him. Rohan asks Anuj not to interrupt else he will defame Nandini. Anuj says to Rohan that if he will defame Nandini than he will report the police about his father's deed who is a culprit for supplying false medicines. Rohan gets sacred. Anuj asks Rohan if he wants police shouldn't know about his father than he need to apologize to Samar and Nandini. He asks Rohan to also delete his pictures with Nandini.
There, Leela accuse Anupama for calling Anuj. Samar reveal to Leela that he invited Anuj. Leela asks Anupama to send Anuj back. [Episode Ends]
Precap: Leela asks Anuj to leave. Devika encourage Anupama to stop Anuj. Anupama decide to play dandiya with Anuj.
Click to read: