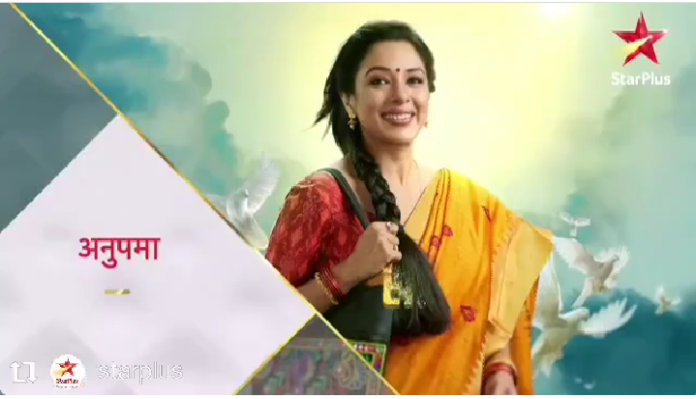 Anupama 23rd September 2021 Written Update on SerialGossip.in
Today's episode starts with Jignesh asking Hasmuk when girl will come up with a tea. Hasmuk says to Jignesh that they are not here to look a girl for him. GK says to Jignesh that he is funny. Anuj comes up snacks for Shah's. Kinjal says to Anuj that she will serve. Anuj says that they are his guests and he will only serve. Samar says to Nandini that so far he has only seen Anupama serving to others. Nandini second with Samar. Kinjal praise the snacks and asks Anuj to call his chef as she wants the recipe. Pakhi too compliments the snacks. Anuj reveals that he made all the dishes. Shahs gets surprised. GK says Anuj learned the cooking from his and now he is expert now. Anupama says that if ever she has to cook for them than she fear about herself.
Later, Shah's praise Anuj's skills. Vanraj and Paritosh visit Anuj's house. Anupama praise Anuj and says latter was good at arm wrestling during college days. Vanraj challenge Anuj for arm wrestling. Anuj refuse to take up the challenge. Paritosh and Pakhi insists Anuj to compete. GK asks Anuj to take up the challenge. Arm wrestling starts with Anuj and Vanraj. Shah's cheer for both of them. Partiosh asks Samar why he is siding Anuj and not Vanraj. He adds they are family. Samar says to Paritosh when Vanraj used to take everyone's side against Anupama than he didn't thought they are family? Paritosh side Vanraj and gets irked with Samar.
Competition between Anuj and Vanraj gets intense. Anupama stands restless seeing the arm wrestling between the duo. Vanraj win the battle. He adds he never lost any battle. GK praise Anuj for his effort. Anuj says he was clueless Vanraj is good at arm wrestling. He says he wouldn't have competed him. GK says Vanraj won at the last moment. Anuj says to GK that Vanraj won long back.
Further, Anuj informs about meeting at Mumbai. He says Anupama is needed at the meeting. Leela, Partiosh and Vanraj against at Anupama visiting Mumbai. Anuj asks Anupama to take her decision. Anupama gets ready to go with Anuj.
Anuj talks with GK and says he worry if Anupama's move will bring trouble for her. Leela loses her cool on Anupama. [Episode Ends]
Precap: Kavya says thought Anupama will go on a business meeting one day. Anupama share with Hasmuk and Kinjal that she dream of seeing sea and boarding flight.
Click to read