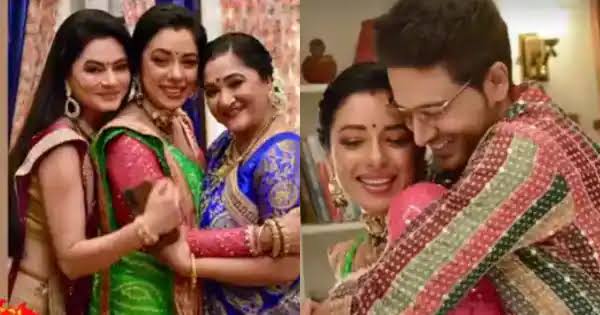 Anupama Spoilers, Upcoming Story, Latest Gossip , Future Story, Latest News and Upcoming Twist on SerialGossip.in
The gripping storyline of Star Plus popular daily soap Anupama, filled with twist and plots; makes it engaging to the audiences.
In the current track, Pakhi gets close to Adhik and starts talking to him more frequently. Whereas, Leela confronts her but the latter hides about her growing friendship with Adhik and manages to escape from Leela's interrogation. Meanwhile, Anupama gets nervous and looses her calm while preparing for Kinjal's baby shower as she determines to manage everything perfectly.
Here, Anupama prays to God in order to handle Kapadias, Shahs and Daves together. She becomes nervous and shares her worry with Hasmukh, while he boosts her with confidence and assures that she can manage well.
Anupama welcomes Rakhi while as usual she taunts the latter for not doing classy arrangements. Anupama gives a befitting reply to Rakhi, while Leela also supports her. Rakhi thinks about enjoying the drama between Kapadias and Shahs.
Ahead, Leela welcomes the Kapadia while everyone gets suprised. She starts her banter with Barkha, while the latter fakes her smile in front of Anuj to gain his trust. Anupama gets tensed in order to handle everyone, while Anuj shows his support towards her.
Barkha taunts Shahs for having a small house while Leela gives a befitting reply to her. On the other side, Pakhi gets excited to see Adhik.
Further, Anupama along with Anuj notify the guests about all the fun activities they will have on the baby shower. They gives a surprise batches to everyone, which denotes their relationship with the baby. Barkha expresses her problem, while Leela taunts her regarding it.
Now in the upcoming episode, Anupama will enjoy the baby shower of Kinjal along with all the ladies. They will dance around Kinjal and makes her ready for the function. Paritosh will get mesmerized to see Kinjal and then sits along with her to start the rituals. Whereas, Rakhi will make a video call to Vanraj in order to make him jealous of Anju.
She will lie to him that Anuj is snatching his place as a grandfather and is performing all the rituals in his place. Meanwhile, Vanraj will get instigated and Rakhi enjoys it. Leela will get shocked seeing Rakhi's cunning ploy.
Will Vanraj attend Kinjal's baby shower?
Will Anupama be able to solve all the problems?
It would be interesting to see what happens next on the show.
Stay tuned with us for more news, Spoilers and written updates of Anupama.