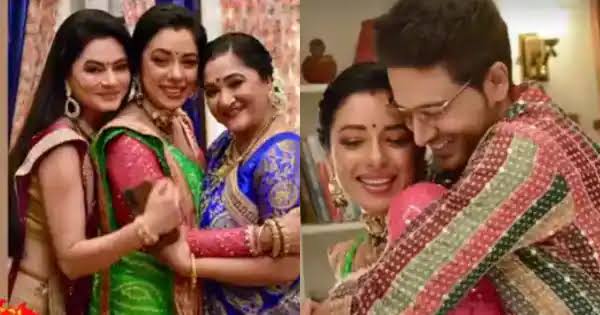 Anupama Spoilers, Upcoming Story, Latest Gossip , Future Story, Latest News and Upcoming Twist on SerialGossip.in
Star Plus popular daily soap Anupama is grabbing the attention of the audiences. Viewers are loving the track, whereas the twists in the story is keeping them hooked to their television screens. Previously, Anupama decided to organise Kinjal's baby shower and gets nervous to handle Shahs, Kapadias and Daves together under the same roof.
In the current track, Anupama and Anuj hosts Kinjal's baby shower and ask the guests to enjoy the ceremony. They proclaims to have lots of fun activities, while everyone applauses for them. Meanwhile, Samar gets suspicious about Pakhi and Adhik's closeness. He warns Pakhi but she avoids his concern.
Here, Anupama along with other ladies gets Kinjal ready for the baby shower function. Whereas, Paritosh shares his feelings with Samar and realises the sacrifices of Vanraj as a father. Samar shows his support towards his brother and ask him to relax.
Leela video calls Vanraj and tells about the function. He gets excited to see Kinjal and Paritosh. Whereas, Rakhi snatches the phone and provokes Vanraj against Anuj and Anupama. She lies that Anuj is fulfilling all the responsibilities of a grandfather, which makes Vanraj furious.
Ahead, Leela tries to stop Rakhi and ends the call with Vanraj. Whereas, Anupama and Anuj recites some heartwarming line in front of Kinjal. The latter shows her gratitude towards Anupama and wishes to become a mother like her.
The baby shower rituals gets started and Leela ties the thread to protect the baby. She also whispers her wish to the baby and everyone laughs hearing it. Whereas, Rakhi creates a huge drama in front of everyone after learning that Leela has given old jewelleries to Kinjal.
Later, Anupama and Hasmukh shows their support towards Leela and tells that it's their heritage. He ask Rakhi to see Leela's love towards Kinjal and becomes emotional. Anupama handles the situation and ask everyone to resume the function.
Now in the upcoming episode, Barkha will give expensive gifts to Kinjal on her baby shower. The latter will get stunned seeing it, while Barkha will brag about her family status and mocks Leela for giving only fruits and blessings as gifts.
Rakhi will whisper to the baby asking it to be classy like her, while Leela gets furious and stops Rakhi from making the baby like her. They will both get into an argument and starts criticising each other.
Anupama will shout at them and taunts them to continue their fight. She will proclaim to stop the ritual till their argument gets over.
Will Anupama be able to handle the situation?
Will Vanraj attend Kinjal's baby shower?
It would be interesting to see what happens next on the show.
Stay tuned with us for more news, Spoilers and written updates of Anupama.