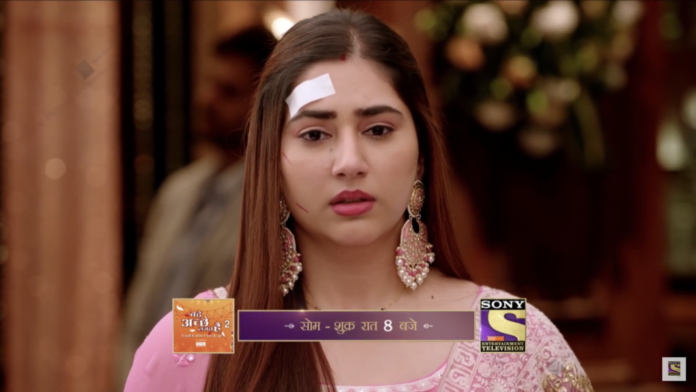 Bade Achhe Lagte Hain 2 21st February 2022 Written Update on SerialGossip.in
Episode begins with Ram worrying about Shivi. Mami days is Shivi pregnant? Doctor comes and sayd what she has consumed? Mami says kiwi juice. Ram says what? Shivi is allergic to it. Doctor asks Shivi to take rest. Here, Priya and Meera come to Priya's room while Meera shows her concern how because she married Mahender that is the reason he is playing with her daughters. Akki starts to go when Shivi stops him and says we met after so long please stay with me or else I will also go with you. Akki says no please rest. Ram says Akki please stay. Akki says okay for one day I will stay. He goes to inform Sarika. Ram also goes. Vedika thinks so this was Nandini's plan to stop Akki.
Shivi exclaims saying this is so good, thanks mom, I did good acting right? Nandini says yes. Nandini says just beware no one should know specially Ram. Shivi pretends again.
Here, Sara is telling Sandy how because of her one mistake Priya is under emotional trauma. Sandy is confused. Ram is listening to all this from far. Sara says you told Ram about Priya liking Kachori? She says you don't know when Priya had touched the kachoris last,whenever dad used to go and meet Rakhi, he used to get kachoris for us, those kachoris are like poison for Priya. Sandy says I can never think of hurting Priya. She cries. Sara says its fine, Priya doesn't tell anything. Ram hears this.
Priya says if Ram knew about the kachoris, then what will he feel, so it's not imp to tell this to anyone, Ram doesn't know everything. Meera asks what happened, tell me, swear on me. Priya says Ram wanted to do Ram's accident, I came in between else… this accident wasn't an accident, I have heard Mahender talking on call that he will do Ram's accident. Meera cries and asks what else will happen with us, it's a devilish thing, I can't believe this. Priya says I can't send Mahender to the jail, what would Ram and family think of this crime. Meera cries. Meera says I wish I had the courage to make him stay away from you all, all this is my fault. Priya tries to calm Meera but fails to. Meera says my mind is not ready to accept it. It turns out to be Priya's dream. The glass falls.
Meera says Priya tell me the truth, I know you are hiding something, tell me, I won't stop asking until you tell me. Priya thinks I can't tell Meera. Just then Ram comes so Meera stops saying. Ram sees the broken glass and calls Tarun. Meera takes a leave and asks them to take care. Meera goes while Ram stops her calling Maa. Ram hugs Meera. Ram thinks I am sorry, today I even made you remember the bad past. Ram says good night ma. Tarun comes and cleans the glass. Ram goes to clean up. Priya thinks sorry Ram, all you have done for us in return my family could only give you disappointment, I understand your feelings behind giving kachoris, I will make Mahender pay for it. Here, Police is checking Neeraj's room. Maitri and Neeraj worry seeing it. Police informs Neeraj about him doing fraud by working in bank with Shashi. Maitri says what fraud? Police asks him to confess.Neeraj says I didn't do any fraud, someone is trying to frame me. Maitri says Ram's friend Shashi.
Shashi gets a call. He says this happens by giving tip to the police, Neeraj got trapped. Mahender says I will not spare Priya. At night, Ram apologies to Priya. Priya says why? Ram says for. He stumbles when Priya says Akki and Shivi looked good together. Ram informs Priya about Shivi falling ill and Akki stayed back, don't say about self esteem of Priya. Priya says I won't, I am happy they are together. Priya says good night. They both go to sleep.She thinks who am I to say this, I just have to keep you safe from Mahender and others. He holds her hand.
Episode ends.
Precap – Priya makes Mahender confess and say how he regrets not to have killed her instead. Sara is recording all this. Mahender sees it and gets shocked.
Click to read