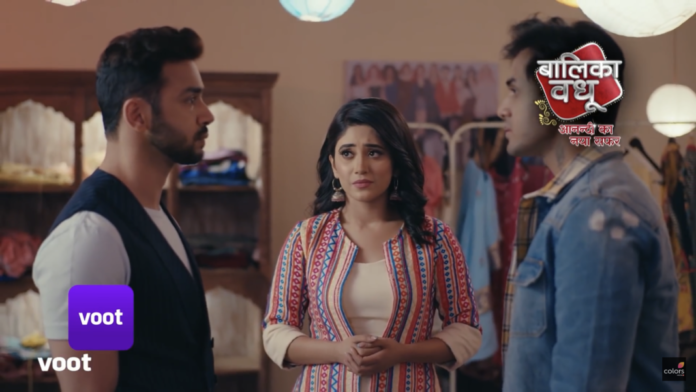 Balika Vadhu 2 7th March 2022 Written Update on SerialGossip.in
The episode starts with Anand and Varun talking. Varun asks Anand why he joined as technical director as he can do more better, he offers Anand to work with him on his app and calls him partner. He gets a message and leaves. Varun and Bhairavi meet at cafe. She shows him Mount Abu retreat campaign package, she tells that she won it in lottery she never bought. Bhairavi questions Varun why is he doing all this. Varun directly tells that he likes her.
Bhairavi asks Varun to stop all this. He tells that he knows about her past and tells about Mehul being in jail due to misdeeds. Bhairavi gets angry at him and asks him not to speak to her like that. Jigar comes to Anandi and asks her if she doesn't think she should have once discussed with Jigar before appointing Anandi. Anandi tells everything happened too soon so she didn't get time. Jigar says it may be financial increasing burden on company but she says otherwise and asks Jigar to talk to Anand about his salary.
Jigar says that she is very busy so should they cancel their usual Friday movie night plans. Anandi tells him that commitments cannot be changed and tells him to worry about which movie they will watch, she will manage her time to join. Anand is making his coffee. Anandi comes there with her green tea and startles him. Anand asks her if she was stalking him. She tells she has to do to find more about him, for example she came to know he doesn't drink tea but coffee. He tells he likes strong but sweet coffee.
Anand gets close to Anandi and tells just like her who is strong yet sweet. Anandi feels shy and goes from there, Anand asks her for another date but she tells about movie night with Jigar and invites Anand to join . Jigar gets ready for movie night and his friend suggests him to take gift for Anandi. Jigar tells he is happy with their relationship now and doesn't want to lose it. His friends insists him that everyone likes gifts so he should definitely take something for Anandi. He agrees. Jigar comes there with a bouquet of white lilies but drops it outside when he sees Anand already sitting there.
Anandi brings popcorn and Jigar feels uncomfortable watching Anand and Anandi constantly flirting and sitting closely. He tells he is feeling unwell and leaves. Anandi thanks Anand for the yellow rose bouquet but tells that her favourite are white lilies. While going back Anand notices the lilies bouquet Jigar had left there. Anandi tells Bhairavi she will come as usual at 1 PM to her house. Bhairavi informs the same to Anand who gets excited. He takes tea for Diya and tries to pacify her. But she gets frustrated and tells that she feels hollow and doesn't talk to Anand. The episode ends with Jigar asking Anandi to meet client but she asks him to do it instead as she has commitment with Bhairavi and Anand.
Click to read