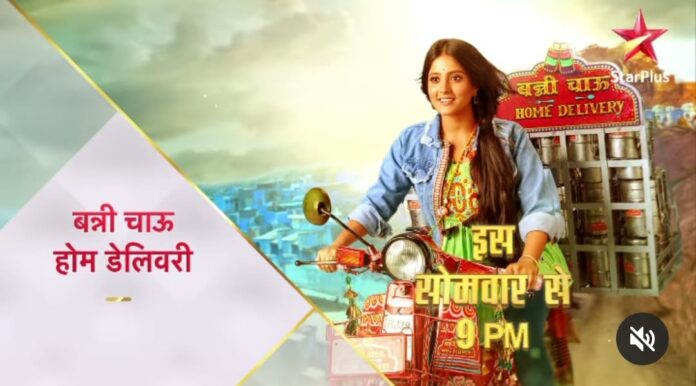 Banni Chow Home Delivery 10th September 2022 Written Update on SerialGossip.in
The episode starts with Banni saying to Devraj that Music can make Yuvan a great person. Devraj says I'm feeling good that you're thinking so much for your husband but Manini wants to control Yuvan's life to keep it under her control so she doesn't let any such dream come true.
Banni says it's a challenge and we won't let Yuvan live as others wish and Yuvan have to write his fate and it's my mission. Devraj says he is with her and tells her that they need to hide it from Manini to make Yuvan progress in his life. Banni says to Devraj that they need to divert Viraj. Devraj asks if she has any plans. Banni makes him meet Surbhi friend of hers. She asks Surbhi to do her work.
Surbhi keeps laddos in front of them. She signs them to do their work. Viraj is busy on a call. That time kids place laddoos in Viraj's packet. Surbhi creates a scene that Viraj stole her laddoos for God. Viraj says he didn't steal and check me out. One man searches his pickets and finds laddo. Everyone accuses him. Viraj says he will get them laddoos and leaves. Banni receives a call from Vishnu that they come. Banni asks Devraj to come with her to know what she planned for Yuvan.
Vishnu and Myra talk about interdependence. Yuvan asks what's it. Myra explains that Banni and you work together that's interdependence. Yuvan smiles and he goes to get Thali. He meets a girl for whom he prepared a flute. He asks her if the flute worked. The little girl says it worked and she won the competition. Yuvan feels happy. Banni and Devraj come there. Yuvan shares it to them. Other kids come there. The principal requests Yuvan to teach music to his kids at their school.
Banni thinks hope Yuvan accepts. Yuvan says I never taught anyone and I don't much. The principal and students request Yuvan to help them. Yuvan takes Banni aside. He tells her he won't feel that he can do it. Banni says fine. She asks kids to practice what they know so they can perform in Ganapati Utsav. Kids play instruments wrongly. Yuvan goes to the kids and advises them on how to play musical instruments. The principal calls Yuvan a teacher.
Yuvan asks who's a teacher. Banni says he called you a teacher as you corrected their music and become their teacher. She makes him understand that he can teach children. She asks him to accept the principal offer. Yuvan agrees. The principal gives him money as an advance. Yuvan feels surprised. The principal says now you guys have to play in Ganesh Utsav then classes at school. Kids touch Yuvan's feet. Yuvan stops them and asks the kids to call him Brother. Banni signs thanks to the principal.
Banni and Devraj discuss they have to make Yuvan come out of Manini's trap. Banni says it's the first step for Yuvan and now Yuvan has to understand his value. Banni says to Devraj that Yuan should stick not only to becoming a music teacher but he should be recognized by the world for his music as a maestro. Someone calls Banni for Ganesh Ji pooja.
Banni asks Yuvan and the children if they are ready for Ganesh ji pooja. They say they are ready. Viraj also tries to join them in Ganesh pooja. But they don't let him as he created a problem for them last time. Viraj agrees and says he will not join them. Banni sings Ganesh ji songs on the stage but she suddenly couldn't as she coughs a lot. Raja takes this as a chance and humiliates Banni.
Episode ends
Precap – Yuvan will take over from Banni and starts singing songs of Ganesh ji. Two women hear how he sings in the audience they like Yuvan's voice. After the pooja, they come to talk to Banni and Yuvan. Banni later says to Devraj about them saying that they are conducting a reality show called rocking star in which they asked Yuvan to participate. Yuvan will say to Banni that he will not participate in it.
The episode starts with Manini saying to Banni 'I saved Yuvan for property and I don't want you to occupy 50% of the property after Yuvan's death.' She says I want all of his property that's why I used your love and affection technique to cure him and now I will make Yuvan throw you out then all property is mine. Manini thinks she will make Devraj bear her pain. Banni stands shocked. The doctor comes there. He asks one of them to leave. Manini forces Banni to leave. Banni feels helpless and leaves the room.
Yuvan returns home. Banni sets his bed. Myra asks Yuvan how is he feeling. Yuvan smiles. Manini asks Banni to prepare food and tells her that she will feed food to him. Banni goes to the kitchen and recalls Manini's warning. Viraj comes there and asks her to search for a new rich customer. Banni throws a rolling pin at him and mocks him for trusting Manini.
Yuvan asks Manini why Banni said that she is not his mother. Banni hears it. Manini says because your mother has come back from the heavens but Banni's mother hasn't so she is jealous of you and maybe she wants your mother to return heavens. Yuvan pleads with her to not go anywhere. Banni leaves the room placing food. Manini holds Banni shoulder. Yuvan comes there and asks if she is jealous like mom said. Yuvan hugs her and asks her to think of his mom as her mom. Banni signs him to smile. She thinks Yuvan proved that good people can't be get affected by evil. Manini gets disappointed. Banni thinks to tackle Manini.
Click to read