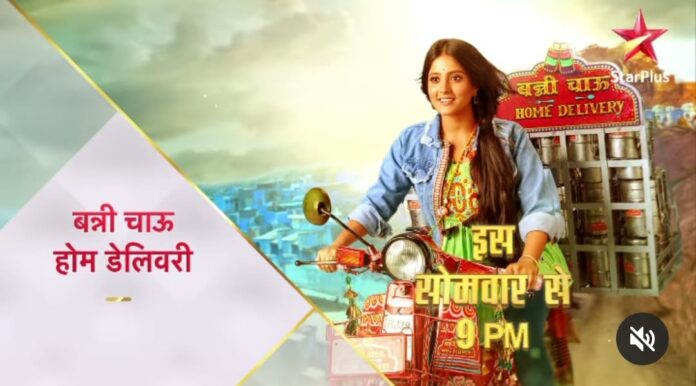 Banni Chow Home Delivery 14th November 2022 Written Update On SerialGossip.in
The episode starts with Agastya asking Banni what's she saying. Banni says it's a fake wedding and would be a drama. Agastya gets shocked. Banni says you understand my situation and you're a friend of me and Yuvan so help me. Agastya gets hurt but agrees to help her. He leaves from there with a broken heart. Banni goes to Devraj's room with medicines. She asks him to not worry about Yuvan and tells him that she has found a way to cure Yuvan.
Devraj says it's enough, I can't let you face problems regularly, I heard your conversation with Agastya and you guys will get married but it won't be any drama and it will be a real wedding. Banni gets shocked and asks what's he saying. Devraj says he can't see her in pain anymore. Banni says Yuvan is my husband and I will fight for him. Devraj says you may not marry Yuvan without our force.
Banni says I married Yuvan for sake of love and with time even fell in love with Yuvan and no one forced me. Devraj says Yuvan is disappeared and the demon is taking his place and that demon loves someone else. Banni says Kabir loves someone else, not our Yuvan.
Devraj asks what's the guarantee that your Yuvan will be back? He says You can't be living just based on these hopes. Banni says she won't lose Yuvan to someone else and she will surely fight for her last breath. Devraj says he doesn't want it to happen. He says I'm talking to you as your grandfather and I don't want you to face problems anymore so remove Yuvan from your heart and mind and think that Yuvan is dead.
Banni gets angry. She asks Dada to never talk in this way. She says she won't leave Yuvan ever and her marriage with Agastya would be fake to bring out Yuvan. Devraj asks what if Yuvan won't come out? Banni says he will come out and Yuvan is my love and future. Devraj says enough, I can't let you ruin your life and if you don't listen to me then you will have to see me dead. Banni gets shocked. Devraj says you can take it as emotional blackmail but you have to do it for my sake. He leaves. Banni breaks down in tears.
Tulika meets Banni and asks how much time she can stop family members from sending Yuvan to a mental asylum. Banni says they have to bring Yuvan out quickly and tells Tulika about her plan to get out Yuvan. Banni says Yuvan may come out seeing me getting married to Agastya otherwise these people will send Yuvan to a mental asylum so please help me in this plan to end Kabir. Tulika recalls Kabir's love for her. She agrees to help Banni. She thinks Kabir will be alive in her heart. Banni thanks Tulika and reveals her plans.
Tulika says I asked Kabir why he loves me so much and he said that he knows me but I couldn't get to know more as he falls asleep because of medicines and don't know how Kabir knows my childhood name. Banni says seems like you're connected to his childhood and the doctor said because of some incident in his childhood he is facing this trauma and you will have to try and find out from the Kabir about that incident and you have to make him recall so we can know what exactly did Yuvan go through and you have to know about that trauma to cure him.
Episode ends.
Precap – Kabir sees Banni is also having Mehendi. Kabir asks Tulika why is Banni having Mehendi function? Banni says only he doesn't have the right to start a new life and says she is also going to start a new life. Banni shows Agastya to Kabir. Kabir says he thought Banni loves Yuvan like he loves Tulika and says she will not love anyone else besides Yuvan. Banni hopes to see Yuvan in Kabir.
Also See: