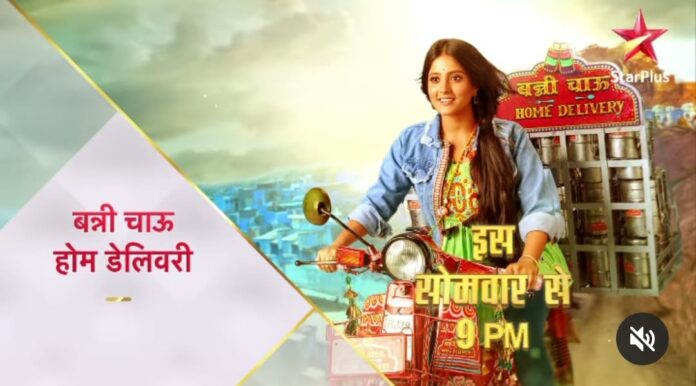 Banni Chow Home Delivery 17th September 2022 Written Update on SerialGossip.in
The episode starts with Banni asking Agastya if you were born with style and swag. She says you learn them later so give one chance to Yuvan and he will prove it. Agastya calls Rajan and asks him to sing. Rajan sings badly. Agastya says Rajan's wife also feels her husband is a rockstar but he is not and your husband is the same as him. He says it's a wrap. Shruthi asks Banni to leave. Banni requests Agastya to not break Yuvan's self confidence in this way otherwise he may never participate in any competition so give him a chance.
Agastya refuses to give him chance and asks her to make her husband sing the events and temple. Banni says artists can't be this much proud and I feel you don't have art and talent otherwise you may know how to respect other's talent. Agastya questions how dare she to question his caliber. Agastya challenges that he will walk out of judging the competition even if 20 people like Yuvan's voice and Yuvan will get a chance to sing with the top 10 singers.
Rohan tries to stop him but Agastya doesn't listen. Banni says you insulted Yuvan in front of the camera so let's this challenge be recorded too. Agastya asks her to turn on the camera. Shruthi asks him to leave it but he doesn't. Banni records it. Banni accepts his challenge and says she will make Yuvan a rockstar. Agastya says time will tell it. Banni says that time will come soon. Agastya leaves.
Manini asks Viraj to know what's Banni doing by sending them. Manini gives the wrong speech assuming it's Mukti daam. Everyone smiles and is confused. Viraj realises it's a cemetery organization. He tells it to Manini. Manini gets shocked and sees everyone is recording her speech. She says it's Banni act and she may insisted Charmi to send us the wrong address.
Banni comes out with Yuvan. She is angry and can't place the key correctly. Yuvan asks her to not take tension and he tells her that he will fulfill his promise by getting selected but doesn't know how to make Agastya hear my song as we don't know where he stays at this moment. Banni says you're Yuvan Singh Rathod so Agastya Dad also has to listen to your song.
Manini returns home in anger. She shouts for Banni. She sees Charmi and questions her when she joined Banni's team eating food of her. Charmi says she sends it by mistake. Manini asks if she didn't see or support Banni. Alapana asks what happened. Viraj says Manini has to attend the museum inauguration but we went to the cemetery inauguration and gave a wrong speech which got viral on social media. Everyone smiles. Manini warns them to not smile. She asks where is Banni. She says she is feeling guilty for choosing her to Viraj. Devraj asks her to stop it.
Manini says I know you guys are puppets of Banni. She warns Charmi to not forget that she can make her a beggar in a moment and raising a dog is better than you. Charmi shouts at her to stop. She says I agreed that I did a mistake but you're not leaving it and insulting me and you're treating us as Puppet, not Banni. Manini raises her hand to slap Charmi but Banni stops her. Manini asks how dare she to stop her.
Banni says it's wrong to raise a hand at daughter in law even after she realised her mistake. She says am I correct Yuvan? Mom used to say it right. Yuvan agrees. Banni warns Manini to mend her ways. Manini leaves in anger. Viraj follows Manini. Charmi says you're correct Banni. Banni wipes fee tears. Later Manini asks Yuvan where he went with Banni. Yuvan says he can't reveal it as it's a secret. Manini says she is hurt as he is hiding secrets from her. Yuvan says he will tell and informs her how Banni is trying to make him a singer.
Episode ends.
Precap – Yuvan sings at the party. Agastya says this voice must be in the rocking star show. Yuvan turns. Agastya gets shocked. Everyone claps. Banni reminds Agastya challenge to him and asks for a chance.
The episode starts with other contestants making fun of Yuvan. Banni holds his hand and tells him they are together. That time Devraj calls Banni and wishes all the best to Yuvan. Banni says Devraj that next is Yuvan's number and disconnects the call.
Devraj prays to God. Manini and Viraj reach to location. Manini asks Viraj if they reach to correct place. Viraj says it's the correct address as Charmi sends it. Their organizers welcome Manini and ask her to give a speech. Viraj asks where is minister. Organizer asks what's the need to call the minister when Devraj's family member is attending. Manini says to Viraj that Devraj lied to them and keeps Yuvan away from me we need to leave to know what's happening there. Viraj says it's not good to leave immediately as the Media is covering them.
Agastya asks Priya how many are left for auditions. Priya says two are left. Upasana comes to give her auditions. Priya says Upasana is the daughter of a music daughter and she may come here thinking nepotism will work. Agastya doesn't like her talk. Yuvan feels nervous.
Banni encourages him. Shruthi asks Yuvan to sing like Ganesh Chaturthi day. Agastya selects Upasana. Priya asks how he selected her as she didn't sing that well. Agastya says she is the daughter of a rich man that doesn't mean everyone uses their rich dad's fame to reach new heights. Priya apologizes to him.
Click to read