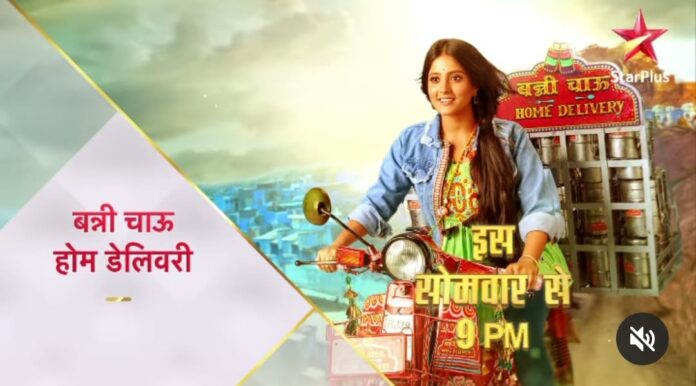 Banni Chow Home Delivery 20th September 2022 Written Update on SerialGossip.in
The episode starts with Yuvan singing behind the curtain. Agastya asks who's he. Rohan says I don't know and I will call bouncers. Agastya stops him and says let's him complete his song as his voice is melodious. Everyone gets mesmerized with Yuvan's voice. Agastya asks him to come into the light and says this voice should be in a rocking star competition. Yuvan comes in front and sings. Agastya gets shocked. Everyone in the set applauds Yuvan's performance except Agastya and Rohan. Agastya asks Yuvan if he sang. Yuvan says Yuvan Singh Rathod.
Banni comes there and reminds their challenge to Agastya and asks him to give chance to Yuvan. Agastya says Yuvan Singh's Rathod voice is good but along with his voice, he needs to have swag and style. He asks Yuvan what he does if someone traps him in the scandal and what if he is in danger after becoming a rockstar. Yuvan says he goes to Banni as she handles everything. Agastya asks everyone to clap for Banni. Everyone claps.
Banni says to Agastya he can't back out from his challenge. Agastya says just now I proved to you that Yuvan is dependent on you and your husband is looser and he can't become a rockstar. Myra records everything. Banni says you promised us. Agastya says he loves to break promises. He says Tamasha is ended. He asks Director to start the next shot. Banni feels bad. Yuvan holds her hand and signs her to not feel bad.
Viraj tells Charmi that he felt bad when Manini scold her so much and I know you may not do it intentionally and Banni might be behind it. Charmi says Banni is the one who saved me and won't you feel hurt if she slaps her. Viraj says he may teach lesson to any person even if they scold her but he can't do anything to Manini as she promised to make them get property share which he needs to take care of her. Charmi thinks I know you love me but Manini can't help us and only Banni is the one who can help us.
Banni gives the tablet to Yuvan. Yuvan takes it. Banni says she doesn't know what to do. Myra says you're master to us and you can't get defeated. She shows the video she uploaded on social media that how Agastya insulted Yuvan breaking his promise. Banni says you did good. Myra says it's trending and everyone is saying to boycott Agastya. Yuvan asks how this video can help them. Banni says this video will make Agastya change his decision. Agastya asks Dharm to stop the car and he asks him to take him back. Rohan says they are bear to home. Agastya says there is nothing to do at home. That time Rohan receives a video of Agastya insulting Yuvan and they get shocked.
The next day, Alapana sees the video and says Banni made Yuvan sing in front of Agastya without Manini's knowledge. Brinda says it's good. Viraj says Manini's not at home to create a scene. Banni asks Devraj why Manini didn't create any scene. Charmi slowly tells her that Manini is not at home. On the way, Manini asks Doctors to airlift her brother. Myra shows Banni how their video is trending. Banni says it's good. Agastya gets worried seeing a video where his fans and people are shouting to boycott him.
Episode ends.
Precap – people surround Agastya's car with a boycott slogan. Agastya comes out and asks how can he give chance to a mentally imbalanced person. The producer comes there and says his decision is wrong and Yuvan will participate in the competition and you have to move out as a judge. Banni and her family feel happy seeing news on the tv.
The episode starts with Yuvan saying to Manini that Agastya doesn't allow him to sing but see mom I will become a singer for sure. Manini says I want to cry as you may feel bad about this insult. Banni informs everything to Devraj. Devraj says how can Agastya do in this way? I will talk with the organizer. Banni asks him to not talk as Agastya may feel Yuvan got the opportunity to sing because of you. Devraj asks what's she thinking to do. Banni says I won't leave this competition in the middle. She says Yuvan may be informed to Manini about it and doesn't know what's she plotting to stop Yuvan.
Manini asks him to stop becoming a singer. Yuvan says you used to say in childhood that you want me to become a singer then why you're saying in this way? Manini says you're married and now you grew up so I don't want you to get insulted so come to the office with me. Yuvan says no it won't happen as I want to make Banni happy by becoming a singer. Manini thinks I have to stop Banni from flying otherwise she may let Yuvan fly which I don't want to happen.
In the kitchen, Banni thinks about how to make Yuvan sing in front of Agastya. Manini comes there and says she can't make Yuvan a singer so stop dreaming about it. Banni says I won't leave in the middle until it happens. She leaves. Manini thinks to make Yuvan walk in her way.
Click to read