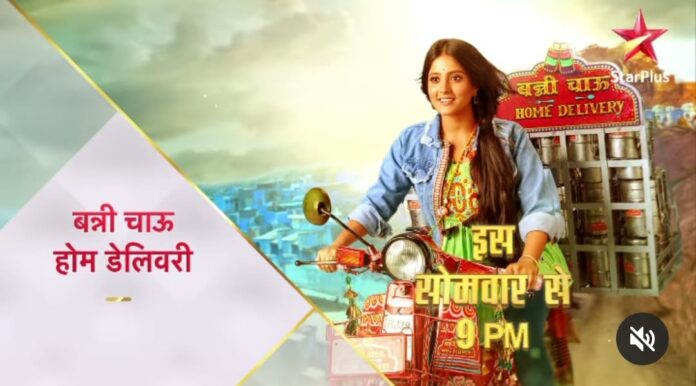 Banni Chow Home Delivery 21st September 2022 Written Update on SerialGossip.in
The episode starts with Agastya and Banni watching how people are boycotting Agastya and rocking star show in support of Yuvan. Rohan asks Agastya to get ready and says they can discuss with Priya and Shruti how to control this backlash before it goes against them. Ngo people say they won't let shooting happen. Shruthi calls Agastya and tells him that because of his insensitive behavior sponsors are backing out. She asks him to not come to the set until they manage the situation. Agastya breaks the phone. He says Banni did it and she has to pay for this act.
On the way, Agastya calls someone to control the situation. People burn Agastya posters and throw stones at the set. Police try to control the situation. Yuvan feels happy knowing people are fighting for her. He thanks her. Banni says it's happened because of Myra. Yuvan thanks, Myra. The reporter says today Audience will judge the fate of the Judge. Banni says hope Yuvan gets a chance. Myra says he will.
Agastya comes to the studio. people surround Agastya's car with a boycott slogan. Rohan asks the driver to take them back. Agastya says they can't go back otherwise it's like accepting that we did a mistake. Banni says hope people won't hurt him in anger. Agastya comes out of the car and he gets hurt when people throw a stone at him. Yuvan watches it on tv and tells it to Banni. Agastya asks people how can he give chance to a mentally imbalanced person and he tells consequences if Yuvan becomes a rocking star. Ngo woman says you're right but who gave you the right to insult Yuvan so you need to apologize to him. People demand his apology.
Rohan asks him to apologize. One of the audience says he is the son of a rich dad so how can he understand the struggle of a mentally challenged person? Agastya says he is in his position because of his talent. The producer comes there. The audience says Param Kapoor is the father of Agastya and we can see how much talent Agastya has.
Param says Agastya's decision is wrong and Yuvan will participate in the competition and Agastya have to move out as a judge. Banni and her family feel happy. Yuvan happily hugs his grandfather. He sees Banni getting emotional. Yuvan plays a musical instrument and says Banni won. Banni says it's his victory. Yuvan says I may never reach here without your support.
He says they can fulfill their dream together and he promises to follow what she said and tells her that he is happy. Manini watches Yuvan's video. She calls Viraj and scolds him for allowing Banni to fool them. She asks Viraj to send him regular updates of Yuvan and Banni until she returns from Delhi. She disconnects the call. She thinks she won't let them fulfill their dream.
At the market, Yuvan tells Banni that mom will be happy knowing he got a chance. Banni says they can tell once she returns from her important work. Yuvan goes to buy jasmine flowers. The old man gives it to me but takes it back after seeing Banni and says he doesn't like her. Banni asks what wrong she did to them. The old man says you troubled good man like Agastya and tells her how Agastya helped them to sell their balloons and how she misunderstands him. Banni feels bad.
Episode ends.
Precap – Param asks his son to know his value. Banni and Yuvan apologize to Agastya. Rohan records their video. Agastya comes to Yuvan's house.
The episode starts with Yuvan singing behind the curtain. Agastya asks who's he. Rohan says I don't know and I will call bouncers. Agastya stops him and says let's him complete his song as his voice is melodious. Everyone gets mesmerized with Yuvan's voice. Agastya asks him to come into the light and says this voice should be in a rocking star competition. Yuvan comes in front and sings. Agastya gets shocked. Everyone in the set applauds Yuvan's performance except Agastya and Rohan. Agastya asks Yuvan if he sang. Yuvan says Yuvan Singh Rathod.
Banni comes there and reminds their challenge to Agastya and asks him to give chance to Yuvan. Agastya says Yuvan Singh's Rathod voice is good but along with his voice, he needs to have swag and style. He asks Yuvan what he does if someone traps him in the scandal and what if he is in danger after becoming a rockstar. Yuvan says he goes to Banni as she handles everything. Agastya asks everyone to clap for Banni. Everyone claps.
Banni says to Agastya he can't back out from his challenge. Agastya says just now I proved to you that Yuvan is dependent on you and your husband is looser and he can't become a rockstar. Myra records everything. Banni says you promised us. Agastya says he loves to break promises. He says Tamasha is ended. He asks Director to start the next shot. Banni feels bad. Yuvan holds her hand and signs her to not feel bad.
Click to read