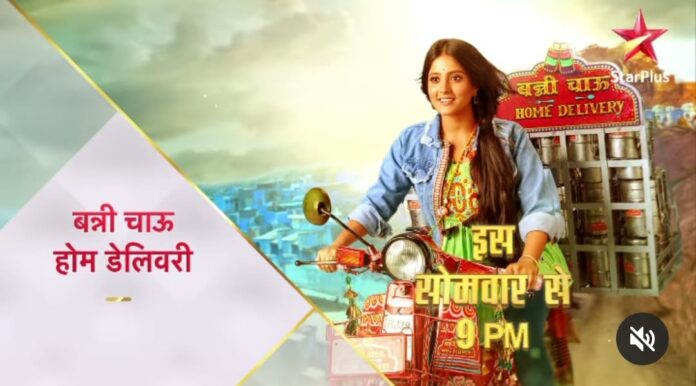 Banni Chow Home Delivery 23rd September 2022 Written Update on SerialGossip.in
The episode starts with Yuvan telling Banni that he is feeling scared. Banni says you need to follow the director's advice and she asks him to not get scared. Yuvan kisses her hands and thanks her. Agastya notices everything. Yuvan says I'm nothing without you. Banni says now everything will be fine and I will get only happy tears. Yuvan sees Agastya in shock. Banni asks Yuvan to not get scared as Agastya accepted our apology. Yuvan thanks Agastya. A shooting member calls Yuvan downstairs. Banni sends him feeding sugar and curd.
Crew member guides Yuvan on how he has to twirl the heroine. Yuvan tells Banni that he can't do it. Banni assures him saying he can do it then he serves drinks and pasta to crew members. Yuvan fails to dance with heroin and he feels uncomfortable. Agastya tells Banni that he wants to apologise to her and assures Banni that he will guide Yuvan becoming his mentor. Banni says Yuvan has her. Agastya says it's not easy like cooking. Banni says cooking is not easy.
Agastya says sorry, I know cooking is tough too. Yuvan makes Heroine fall down. Mona says I can't act with him and walks away. Director says how can they shoot without a lady? Yuvan proposes to use Banni. Crew members are against his advice. Agastya stops them and tells Banni is a good choice and through this, we can show how Banni wants her husband to become a rockstar. Crew members agree. Banni says I can't. Yuvan and his family members request her to do it. Banni denies it and leaves for her room.
Banni closes the door without seeing which hurts Agastya's hand. Banni applies ice to his hand and asks him to take pain killer. Agastya takes it. He asks if she opens a medical shop at home. Banni says it's Yuvan's kit. She applies cream to his hand. Agastya asks her to agree to act in a promo shoot for Yuvan's success. Devraj comes there and asks her to agree.
Banni is shown to be dancing a duet with Yuvan for the photo shoot. Yuvan can't do it properly. Director asks him to do it correctly. Agastya takes Yuvan's place and shows Yuvan how to do the
step with Banni. Yuvan asks him to do it one more time. Agastya repeats it. Banni feels uncomfortable. Agastya asks Yuvan if he understands. Yuvan says he gets it but he can't perform in a good way. Director asks him to perform like a man seeing her eyes, not like a child.
Rohan tells Agastya that Banni is going to do his work. Viraj mockingly says it has to be telecast on tv. Charmi says it has to be as they are united by God. It's shown how Agastya changed Yuvan's medicines with help of Rohan. Agastya recalls his insults. He sees them and thinks to himself, sorry Yuvan you are a good singer but you have to get defeated as I need to prove to my dad and viewers that my decision is good and you can't become a rockstar.
Episode ends.
Precap – Banni tells Agastya that they have to make Yuvan fulfill his dream. Agastya agrees. Yuvraj gets hurt while taking the suitcase. Banni feels worried. Seeing this Manini thinks I will see how Yuvan going to perform tomorrow.
The episode starts with Yuvan and Banni talking about the Agastya traffic stopping incident. Banni asks Yuvan if Agastya can really do a good deed. Yuvan says yes and convinces Banni that she might be wrong. Yuvan also requests Banni to make Agastya take back the judge position. Banni gets a call from Priya from Rocking star. Priya asks Banni if she and Yuvan can come to the studio. Banni agrees to come. Banni says about it to Yuvan. Yuvan also says we will go there and apologise to Agastya and make him take the judge position again. Banni thinking of what happened feels guilty about Agastya.
Agastya recalls what happened with Param Kapoor his father. Param Kapoor humiliates Agastya and says he can make anyone a bigger rock star than her.
Priya gives Banni the contract that Yuvan has to sign and says they have to shoot a promo. Banni asks Priya if she can do something so that Agastya can become the judge again. Yuvan sees Rohan and points Banni to him. Rohan brings Banni and Yuvan to the place where Agastya is. Banni goes to meet Agastya but Rohan stops him. Rohan says Agastya is meditating. Banni asks about it. Rohan says to Banni that Agastya looks for answers in some silent places. Banni says this is completely different from Yuvan and says when Yuvan is sad he just plays music. Banni thinks they should meet him another time.
Click to read