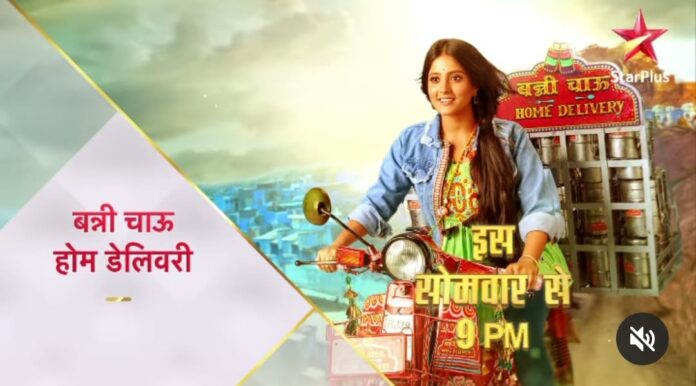 Banni Chow Home Delivery 6th November 2022 Written Update On SerialGossip.in
The episode starts with Devraj bringing Banni home. Hemant says to Banni that he was wrong in judging her, he thanks her for not leaving Yuvan in tough times and he blesses her. Banni feels happy and says we're surely going to win and no one can stop Kabir from losing. Myra says Yuvan didn't return yet. Banni says don't worry, Tulika has promised me that she will surely bring Yuvan back home but we have to make sure that we'll have to keep Yuvan calm as it's Kabir who hates us and he is just staying here for Tulika. Devraj tries to say. Banni stops him and says I understand what you're going to say but it's needed. That time Yuvan/Kabir return home with Tulika.
Kabir asks Tulika to come with him. Tulika says I'm not your wife. Kabir angrily drops bags. Tulika says I told you that I need time to understand you so let me stay in the guest room. Kabir agrees. Banni takes Tulika to guest room. Tulika apologises to Banni and thanks her. She says we are trapped in a difficult situation. Banni says it's for some days and you're a doctor so take it as a complicated case.
Veer tells Viraj that Yuvan is acting like Kabir to take revenge on us. Banni says to Tulika don't apologise to me, I'm feeling grateful for your help and we have to bring Yuvan to come out in 3 days. Tulika agrees. Veer says to Viraj that they have to remove Yuvan to get all property. Charmi cones there. She asks Veer to stop creating differences between brothers. Viraj says her will talk. He tells his dad that Yuvan is not pretending but he is actually suffering from a split personality so I needs to help Banni. Veer says you will regret your decision in the future. Banni says to Tulika that she has planned something to defeat Kabir and we have to start our plan from tomorrow itself. Tulika agrees.
The next day, Tulika goes to Kabir and asks him to wear the sherwani she bought. Banni observes from the window and thinks Yuvan wore it on Ramnavami and it's special as we danced together for the first time on that occasion. Kabir asks why this. Tulika says today is your Kuldevi puja at the temple and I too want to participate in it. Kabir says fine but one question I.e have you accepted me? Tulika sees Banni. Banni signs her to manage. Tulika says you gave me time to understand you and in understanding you. He agrees and takes sherwani. His hand touches her. Banni thinks she will force Kabir to live every moment that me and Yuvan lived together. Kabir goes to change. Tulika goes out to meet Banni. Banni thanks Tulika for help.
Kabir comes downstairs wearing Sherwani and calls Tulika. Banni closes the doors. She plays music and dances around him like she danced in the past. Yuvan comes out and dances with Banni but Kabir overpowers Yuvan and throws her. Banni doesn't leave her trail and dances on broken gungroos. Yuvan comes out and says Banni. Banni feels happy.
Charmi places diyas. She tells Tulika that we have a practice if lighting lamps after the 11th day of Diwali and during this time we invite our house deity god to them our desires. Tulika says it's beautiful. Charmi asks them to pray. Tulika, Charmi, and Myra pray from Banni. They place rangoli. Someone unknown person places Diya near Tulika's dupatta. Tulika's dress catches fire. Yuvan plays violin and Banni dances for the song. Banni and Yuvan see Tulika's dress caught fire. Yuvan changes into Kabir seeing Tulika in danger. Kabir stops the fire with his bare hands. Tulika asks Kabir to stop doing it saying his hands will get burnt. After Kabir stops the fire. Kabir says to Tulika this fire took away my mother from me and I can't allow it to take you away from me. Kabir hugs Tulika.
Episode ends
Precap – Kabir to get on his knees and shows a ring to tulika and says to Tulika that he loves her and asks her to marry him. Banni comes on her vehicle and asks Kabir if he is going to marry in a jail. Banni puts handcuffs on Kabir and shows Kabir the video and photos of Yuvan and Banni getting married and says Yuvan is already married to Banni.
Also See: