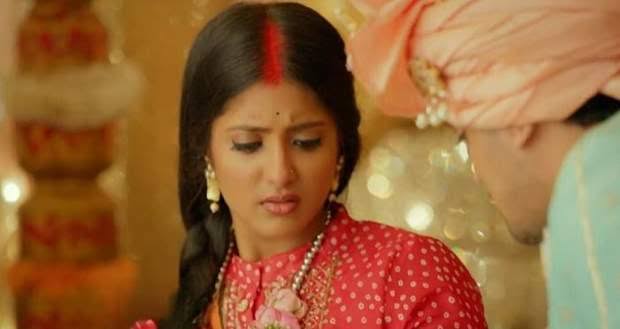 Banni Chow Home Delivery Spoilers, Upcoming Story, Latest Gossip , Future Story, Latest News and Upcoming Twist on SerialGossip.in
StarPlus TV new show Banni Chow Home Delivery serial is witnessing some major turning points where Devraj stops Hemant from leaving the Rathod mansion.
As reported earlier Everyone accuses Banni of drugging Yuvan. Banni says wow Manini you're making everyone blind. Banni asks them to test her food and Yuvan's blood to know how it entered Yuvan's blood and call the police and complain to them to find the real culprit. Manini and Charmi look worried.
Banni says this marriage won't happen until the truth comes out. Devraj says a full body checkup needs to be done. Manini thinks she will prove how she can change the play. She goes to Yuvan and asks if he wants to marry Banni. Yuvan agrees.
Yuvan makes Banni wear the varmala then he applies sindoor in her hair partition. Everyone gets shocked. Banni looks petrified. Yuvan says they are married and can stay together forever. Devraj, Sulekha, and Myra look happy.
Hemant raises his hand at Yuvan for his act. Manini stops him and reveals she is the one who asked Yuvan to do it. He asks what is she saying. Manini asks him to trust her. She makes Yuvan and Banni sit in the mandap and joins their hands. She asks Pandit to start the marriage.
Banni stand-up saying this marriage won't happen. Manini says you're his friend then why you're backing out? Be his protector and stop blaming me. You have 2 options, marry Yuvan or leave our lives. Banni looks confused. Yuvan prays to god. He tells Banni that half marriage is done so let's marry completely to stay together forever.
In the upcoming episode, viewers going to witness Banni will say she can't handle this anymore. Today our customers nearly died. Banni will give the report to Devraj and asks him if he can do anything for Yuvan do it.
Banni says today Yuvan has crossed their friendship bottom line. Banni goes in her scooty and Yuvan tries to stop her but he is held back.
Will it be the end of Banni and Yuvan's friendship?
Can Banni fail Manini trap?
All these questions will be answered in the upcoming episodes.
To know what will happen next in your favorite show, keep checking this space for new and exclusive updates.