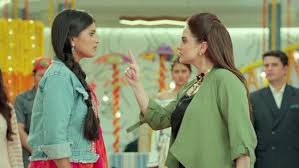 Banni Chow Home Delivery Spoilers, Upcoming Story, Latest Gossip , Future Story, Latest News and Upcoming Twist on SerialGossip.in
StarPlus TV new show Banni Chow Home Delivery serial is witnessing some major turning points where Manini convinces Yuvan for his marriage.
As reported earlier Banni teaches lessons to eve teasers. Yuvan sits on the water tank and demands to eat food with Banni hand and refuses to come down. Hemant asks Devraj to call Banni by offering her money. Banni decides to mortgage her chain for Vishnu's fee. That time Devraj and his wife arrive atBanni's house and offers her more money to feed Yuvan. Vishnu asks her to accept the offer. Devraj video calls Yuvan and tells her that Yuvan didn't even drink water while waiting for her. Banni talks with him on a video call. Yuvan plays the tune he prepared for her.
Banni wipes her tears and tells him that from tomorrow onwards I will come to feed you so eat the food I sent otherwise I won't come. Yuvan eats the food. Hemant tells Manini that Devraj didn't tell him about the issue Banni created at their place that's why I insisted him to call her. Banni feels happy knowing Vishnu got admission. Manini makes Hemant agree to Yuvan's marriage telling him Niyati agrees to marry Yuvan. Hemant tries to tell Yuvan about his marriage but he couldn't.
Manini tells Yuvan that tomorrow one pari is coming and if you marry her then she will make you meet your Mom doll. Yuvan asks really? Manini says true, tomorrow you can see your Pari through this window. Yuvan agrees to marry Pari.
In the upcoming episode, viewers going to witness Yuvan will see Banni through the window and assumes Banni is Pari. Brinda will ask what's special about seeing the arrangements. Manini will say Yuvan's wife is coming. Banni will come there and workers shower flowers on her. Manini and others will get shocked.
Can Banni become Yuvan's Pari? Can Banni save Yuvan from Manini's trap?
All these questions will be answered in the upcoming episodes.
To know what will happen next in your favorite show, keep checking this space for new and exclusive updates.