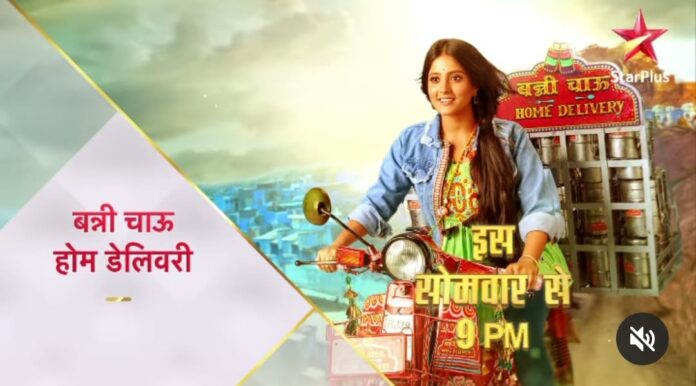 Banni Chow Home Delivery Spoilers, Upcoming Story, Latest Gossip , Future Story, Latest News and Upcoming Twist on SerialGossip.in
StarPlus TV new show Banni Chow Home Delivery serial is witnessing some major turning points where Banni agrees to marry Yuvan.
As reported earlier Devraj tells Banni that love is needed in any relationship and Yuvan loves you so much and he can do anything for you.
Raja asks colony people to break the carriages to destroy the business of Banni and in this way, she will leave our colony. Yuvan stops them by protecting the carriages. Manini and Hemant learn everyone left and they didn't find Viraj.
Manini says it's all plan of Maama sa. She calls Veer and asks him to check Banni's place.
Banni comes out. Yuvan says it's a mistake of him and Banni is innocent. He asks them to punish him as he wants Banni to get successful in her business.
Colony people say Yuvan will leave the place if they make Banni leave. They hold Banni and try to hit her with a slipper. Yuvan stands in front of her and gets hurt instead of her. Banni recalls the difference between Yuvan and her Dad. Yuvan tells Banni that he can tolerate anything but not see her crying. He gives her mom's photo.
Colony people drag Banni away when Viraj is taking Yuvan away. Devraj asks Banni to save Yuvan. Yuvan requests Viraj to save Banni as a mistake is his. Viraj asks Yuvan to get hit by the colony people to seek Banni's forgiveness. Yuvan agrees.
Banni saves Yuvan and warns them to not touch Yuvan. Viraj asks if she becomes a lover while saving him. Banni slaps him. Viraj shouts at her. Banni says she is a friend of Yuvan, protector and now she is going to be his wife. Yuvan and Devraj feel happy. Others get shocked.
In the upcoming episode, viewers going to witness Devraj will announce he will perform Banni and Yuvan's marriage in front of slum dwellers.
Banni will tell Vishnu that Yuvan protects her and he is the correct man for her. Yuvan will tell Devraj that he can't marry Banni. Devraj will get shocked.
Why Yuvan is backing out from marriage? Will Manini be able to stop the marriage?
All these questions will be answered in the upcoming episodes.
To know what will happen next in your favorite show, keep checking this space for new and exclusive updates.