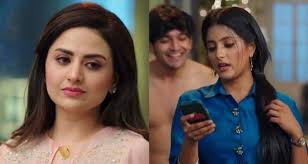 Banni Chow Home Delivery Spoilers, Upcoming Story, Latest Gossip , Future Story, Latest News and Upcoming Twist on SerialGossip.in
StarPlus TV new show Banni Chow Home Delivery serial is witnessing some major turning points where Devraj gives time for Banni to prove her innocence.
As reported earlier, Police arrested Banni for kidnapping Yuvan. Banni tells she took him out taking his grandfather's permission but they didn't listen Banni sees goons who beat her. Police bring Yuvan and Banni. Manini asks Viraj to take Yuvan inside. Viraj takes him inside forcefully. Banni says to Manini that she understands that this is her plan to make her leave the house. Niyati asks her to stop blaming others to hide her mistake.
Anchal notices jewellery in the violin bag. She says it's the jewelry of Yuvan's mom. Niyati asks if she took it. Banni says he brings it with him as he doesn't like you to get this jewelry. Manini says you may ask him to get this jewelry. Banni asks them to know the truth from Yuvan. Devraj agrees. Yuvan confesses against Banni because of Viraj. Banni pleads him to reveal the truth. Family members accuse Banni. They demand her arrest.
Devraj stops them saying Banni won't get arrested. Hemant says only Manini can give correct brought up to Yuvan and he tells his dad to meet Yuvan when Manini agrees. Devraj gives 24 hours for Banni to prove her innocence. He tells everyone they can get Banni arrested if she can't prove her innocence. Devraj tells Banni that he trusts her and asks her to prove her innocence to make him get his grandson.
Banni says she will end her dreams if she didn't prove her innocence. Banni hears Viraj's words and feels her suspicion is correct.
In the upcoming episode, viewers going to witness the Hemant will tell everyone that Manini decides to get Niyati and Yuvan engaged in the next week, and very soon they will get married.
Devraj wIll notice Yuvan's longs for Banni. he will tell his wife that Banni created a bond with Yuvan which this family fails to create all these years. Banni will swear to prove her innocence for Devraj.
Can Banni be able to prove her innocence?
Can Banni expose Manini?
All these questions will be answered in the upcoming episodes.
To know what will happen next in your favorite show, keep checking this space for new and exclusive updates.