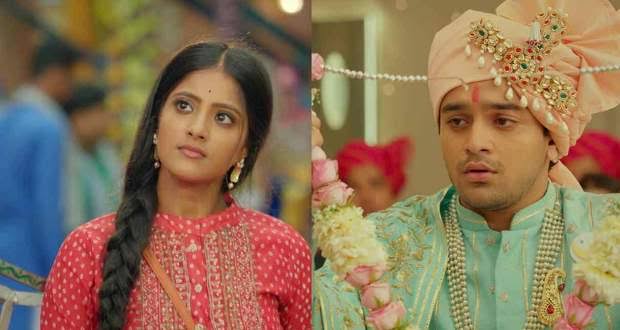 Banni Chow Home Delivery Spoilers, Upcoming Story, Latest Gossip , Future Story, Latest News and Upcoming Twist on SerialGossip.in
StarPlus TV new show Banni Chow Home Delivery serial is witnessing some major turning points where Banni gets accused of conspiring with Devraj.
As reported earlier, Yuvan reluctantly puts Varmala on Niyati. Banni goes to the Ashram and she finds in which box Raja mixed poison through photo help. She asks them to not eat food and tells them that Raja added poison. She is about to go to Yuvan's marriage but Raja stops her.
Manini do the Gadh Bandhan between Yuvan and Niyati and thinks she has won and Devraj got defeated. Pandit asks the groom and bride to start phera. Devraj says one minute. Everyone looks on. That time Banni enters the venue in her scooter and dragging Raja. Devraj, Sulekha, and Yuvan feel happy.
Banni announces this marriage won't happen as this Niyati is not correct for Yuvan and here is the blood report of Yuvan. Hemant and Veer ask if she started a new drama. Banni says this is the original blood report of Yuvan and she is giving the wrong medicine in heavy doses to Yuvan that's why his health is deteriorating and your wife did it and Niyati supported her.
Devraj says I receive this report with Banni's help and your Manini never consider Yuvan as her son that's why she planned this marriage to get property after a year. Hemant says you predicted correct Manini they did exactly what you expected, Banni conspiring with Devraj to stop this marriage. Banni gets shocked.
In the upcoming episode, viewers going to witness that Banni will ask them to test her food and Yuvan's blood. Yuvan will apply sindoor to Banni's hair partition. Everyone will get shocked. Yuvan will announce they are married and can stay together for their lives. Manini will ask Banni to marry Yuvan. Banni to look shocked.
Will Banni agrees to marry Yuvan?
What's Manini motive behind her act?
All these questions will be answered in the upcoming episodes.
To know what will happen next in your favorite show, keep checking this space for new and exclusive updates.