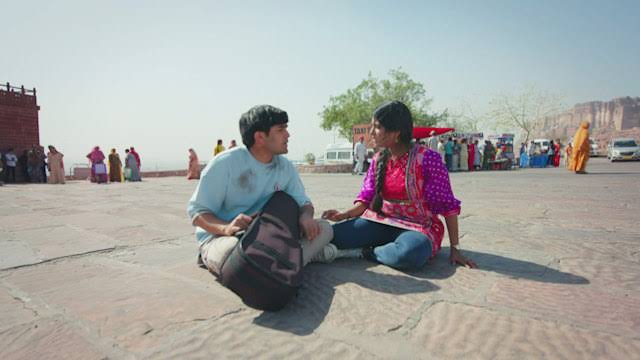 Banni Chow Home Delivery Spoilers, Upcoming Story, Latest Gossip , Future Story, Latest News and Upcoming Twist on SerialGossip.in
StarPlus TV new show Banni Chow Home Delivery serial is witnessing some major turning points where Banni and Yuvan help the old man to revive his business.
As reported earlier, Banni rescues Yuvan from the ladies. Family members point out Devraj for trusting Banni. Anchal sees a trending video of Yuvan and she calls Viraj and tells him about the embarrassing trending video of Yuvan. Manini tells him they can use it in their favor. Yuvan takes a vegetable roll from the shop and asks Banni to eat it. Banni asks where he gets it. The shopkeeper pushes Yuvan. Banni scolds him. The old man gives them his vada pav. Yuvan eats it. Banni says they don't have money.
The old man says no problem as my business is dull because all college students are going to that burger shop. Banni tastes his Vada pav and tells him that he needs to change his masala to revive his business. She tells him that she will help him for making Yuvan happy by giving him food. Banni changes Vada pav with her tadka. Yuvan attracts college students with his music. College students go to the Vadapav shop and enjoy it. Viraj receives a call. He tells everyone that Banni and Yuvan are in Ranakpur.
Hemant gets shocked. One girl kisses Yuvan and gives him her number and rose. Yuvan gets hurt with thrown of the rose. Banni applies haldi to his cut. Yuvan asks why she kissed him. Banni says we kiss the person we like. Yuvan says I like you and can I kiss you. Banni stops him. Everyone sees them.
In the upcoming episode, viewers going to witness the Police will arrest Banni for kidnapped Yuvan. Banni will see goons from the police jeep. At Rathod mansion, Anchal wIll see jewellery in the violin bag of Yuvan. Manini says Banni's intentions are clear. Everyone will blame Banni. Banni will stand helplessly.
Will Manini get successful in her plan? Can Banni be able to prove her innocence?
All these questions will be answered in the upcoming episodes.
To know what will happen next in your favorite show, keep checking this space for new and exclusive updates.