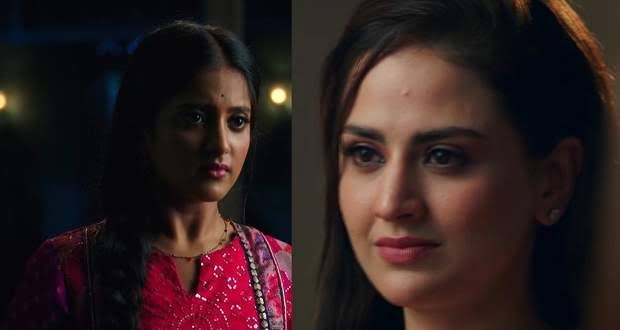 Banni Chow Home Delivery Spoilers, Upcoming Story, Latest Gossip , Future Story, Latest News and Upcoming Twist on SerialGossip.in
StarPlus TV new show Banni Chow Home Delivery serial is witnessing some major turning points where Banni is in a tight spot.
As reported earlier, Banni tries to explain to customers but they don't listen and argue with her. The servant asks Yuvan to drink the juice. But Yuvan says he doesn't and throws the tray and the juice falls on him.
Manini and Viraj think why is the medicine not working. They take off the Sherwani and see a bandage on his hand.
Viraj and Manini ask about it. Yuvan says he doesn't know. Viraj forces Yuvan to tell them what's he doing in the washroom. Yuvan says he vomited the pill that they gave on Devraj's saying.
Manini calls Raja and says Banni should not come to this marriage. Raja says she will not come.
Banni warns the customers and tells them to let her go. Banni gives the reports to Vishnu and tells him to give them to Devraj's hands only. Vishnu calls Devraj's phone. Vishnu calls Devraj outside. Viraj comes outside and sees that Vishnu is with the report and asks him if he has anything he can tell to him.
Vishnu makes up a reason and tells him he will come later. Viraj orders the guard that Banni and Vishnu should not enter. Viraj tells Manini that Vishnu came and he has to talk with Devraj.
Banni says she can't understand in which food the Poison is there and in which it doesn't. Banni tries Yuvan's idea. Banni sees the photo and thinks of when it is taken.
Vishnu comes and tells her what happened there. Banni says she has to go to Ashram first and then to Yuvan's marriage. She thinks no one can stop Banni from going to Yuvan's marriage.
In the upcoming episode, viewers going to witness that The Pandit will ask the bride to wear Varmala on Yuvan. She does it. Manini will do the Gadh Bandhan between Yuvan and Niyati and Thinks she has won.
Banni will go to Ashram and when she is about to go to Yuvan's marriage. Raja will stop her and says she will not go anywhere today as I am your shadow.
How Banni will save Yuvan? Can Raja stop Banni?
All these questions will be answered in the upcoming episodes.
To know what will happen next in your favorite show, keep checking this space for new and exclusive updates.