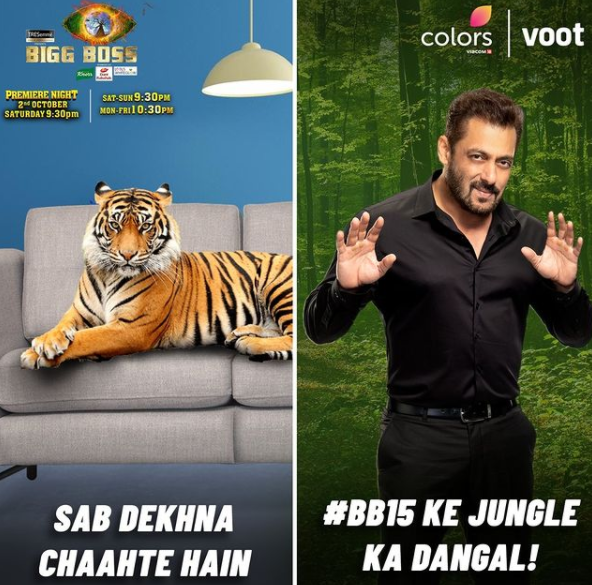 Bigg Boss 15 15th January 2022 Written Update on SerialGossip.in
Today's episode starts with Salman Khan's greeting. He welcome Gauhar Khan on the stage. Host asks Gauhar about the season. Gauhar tells that she like Pratik, Nishant, Tejasswi and Karan. She adds Tejasswi's game this week was not upto the mark. Salman shows Bigg Boss 15 trophy. He further shows the task performed by Gauhar with the inmates. Gauhar meet inmates and introduces Bigg Boss 15 trophy. Inmates get happy seeing the trophy.
Gauhar asks Karan how he is feeling seeing the trophy. Karan says it is giving energy. Khan perform a task with inmates and asks them to impress the trophy. Rakhi turns Julie to get the attention. She performs a dance. Abhijit acts like Amitabh Bachchan to attract the trophy. He sings a song too. Karan in Punjabi language recite a poem.
Ahead, Gauhar asks inmates to choose whom they see as a finalist. Nishant starts the task. He throws Tejasswi and choose Karan amid the both. Tejasswi choose Rashami over Nishant in the task. Karan choose Nishant over Pratik. Pratik choose Shamita over Nishant. Shamita choose Rashami over Devoleena. Rakhi choose Tejasswi over Devoleena. Abhijit choose Rakhi over Devoleena. Devoleena evict Abhjit. Task ended with Rasahmi choosing Shamita over Karan.
Salman asks Gauhar if she has to cast her vote whom she will choose. Gauhar vote for Pratik. She bid adieu to audience.
Bigg Boss asks Karan to come to the medical room. Inmates test is being done. Salman says he will tell the test result to the inmates. He meet inmates and tell about 'nomicorn' virus. Inmates decode Salman is indirectly playing with them. Khan says Tejasswi. Rakhi and Pratik is basically affected with nomicorn virus.
Salman starts with showing clip about Rakhi who was predicting the things entire week. He says Rakhi knows everything about Karan and Tejasswi's relationship. Rakhi says 'wo srif tuka' lagati hai. Salman asks Rakhi if she has an envy with Karan and Tejasswi's closeness than she should avoid them. He also asks Rakhi to stop giving her verdicts on everything.
Salman says to Rakhi to entertain not to bore audience with her baseless predictions. He further highlight Pratik feels for the makers and host he doesn't exit. Salman says he only talk with the contender who goes wrong.
Ahead, Salman shows Tejasswi's entire week activity. She was found quoting Bigg Boss favours Shamita. Khan talk with Tejasswi if she know everything so she should tell who will win the show this year. Tejasswi tries to defend herself. Salman discuss about Tejasswi's behavior. Salman asks Tejasswi to stop playing sympathy card. Tejasswi says she understands him.
Salman says to Tejasswi that she has done lots of mistake last week. He says her to keep her fight with Shamita between them only. Tejasswi defend herself and says her prediction always come right. Salman says to Tejasswi that they are showing her footage where she is accusing makers who has given her the platform. He says she was wrong whole week. Salman asks Tejasswi to not take Karan for granted.
Host next perform 'galatfemi ke gubare'. Task starts with Pratik. Pratik targets Karan, Tejasswi and Abhijit. Nishant and Shamita pricks Abhijit's balloon. Shamita also says Tejasswi has a misunderstanding that she is perfect. Devoleena targets Abhijit. Rakhi pricks Abhijit and Nishant's balloon. Rashami targets Abhijit. Karan and Tejasswi pricks Pratik's balloon. Task ended with Abhijit pricking Shamita, Devoleena and Nishant's balloon.
Salman says Abhijit gets the maximum vote. There, Karan and Shamita talk with each other. Shamita corrects Karan for using foul word for Pratik's mother. Karan says he understand and apologized to him. Shamita says to Karan that Tejasswi could have stopped him but she didn't. Episode ended with Salman telling tomorrow famous journalist will interact with inmates.
Click to read