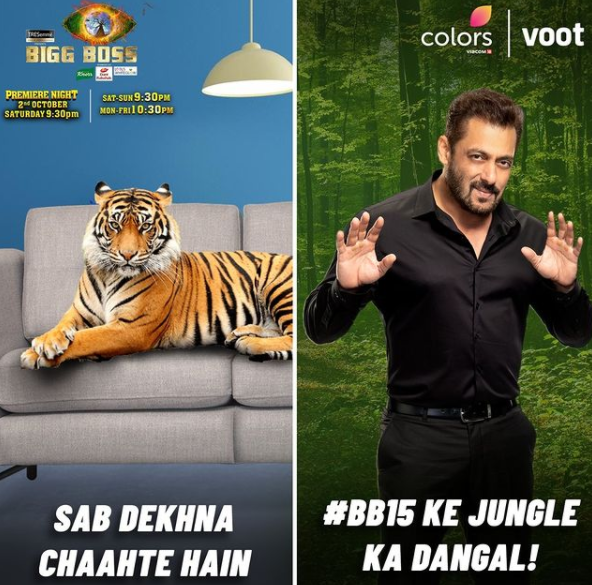 Bigg Boss 15 17th January 2022 Written Update on SerialGossip.in
Today's episode starts with Day 107 at 10:45AM; Nishant and Rashami talk with each other. Rashami ask Nishant to play for himself. Nishant agree.
12:15PM; Devoleena tells to Nishant that he is playing for himself thus, he is here. Karan asks Tejasswi not to trust Nishant. Tejasswi agree with Karan.
Rakhi and Abhijit share a talk with each other. They make their task strategy.
Afterwards, Nishant and Pratik argue with each other post they discuss captaincy task. Shamita asks Nishant not to try to prove her wrong. Nishant asks Pratik and Shamita to overcome from their self-obsession. Shamita says to Nishant rather he is sounding self-obsessed. Rakhi side Shamita and Pratik. Later, Pratik argues with Nishant. He claim Nishant wanted to out Rakhi. Shamita asks Nishant to clarify as she is not understanding the matter. Nishant walk out.
8:45 PM; Shamia talk with Karan and says Nishant is trying to prove her wrong. They discuss about the happened captaincy task. Shamita tells to Karan that she convinced Devoleena and Rasahmi to play for her. Karan asks Shamita if she will have a problem if Tejasswi comes to the finale week. Shamita says she don't have any problem with Tejasswi.
9PM: Tejasswi asks Karan what talk he had with Shamita. Karan tells about his conversation with Shamita to Tejasswi. Here, Shamita asks Nishant to sit and talk about the issue. Nishant says to Shamita that why she evicted Tejasswi and not Rakhi. Shamita tries to defend her narrative. Nishant gets emotional and share if he makes a relationship, he value him/her. Shamita gets teary hearing Nishant. She apologize to Nishant and clears she didn't meant to hurt him. Nishant says he never expected from anyone but this time he did. Shamita says to Nishant she never let him down as a friend.
Day 108 at 8 AM; wake up song plays for inmates.
10:30 AM; Inmates see circus set-up and discuss about the upcoming task. Karan, Tejasswi, Rashami and Rakhi
1:30 PM; Nishant asks kajal from Shamita. Shamita asks Nishant to first give her hug. Nishant, Rashami and Shamita hugs together.
5 PM; Rajiv Adatiya enters the big boss house. He says he will take some crucial decision in the house. Joker song plays for the inmates. Inmates wait for the door to open. They gets excited seeing Rajiv in the house. Rajiv dance in the garden arear. Shamita hugs Rajiv and gets happy. Pratik, Karan, Tejasswi and others meet Rajiv and gets happy.
Rajiv tells to the inmates that he will make it difficult for them to survive in the house. Bigg Boss welcome Rajiv.
5:15 PM; Karan read 'jadui television' task. Inmates can fetch the opportunity to talk with their near ones by collecting glitters. The quantity of the glitters collected will decide which contender can talk how minutes with their family. Shamita asks inmates to think about each other. Rajiv asks Rakhi to do
5:30 PM; Task starts; Nishant decide to talk with his parents for 10 mins. Nishant's parent share a talk with Nishant. They asks him to win the game as he is playing good. Nishant's father sing a song on Nishant request. Nishant make Shamita, Pratik meet his parents.
5:45 PM; Rajiv tell to Rashami that he is an emotional person. He tells about Umar.
Rakhi says to Nishant that Rajiv is lowering his morale. Nishant asks Rakhi not to get bothered. Next, Rashami gets an opportunity to make a call. Rashami decide to talk with her mother. She gets happy seeing her mother. Rashami's mother praise her game. She meet inmates and everyone gets happy Rashami's mother.
6:30 PM; Rajiv says to Nishant, Rakhi and Shamita that this week they weren't serving good content. He alert Rakhi not to tease Shamita with Karan. Rakhi defend herself and says she will speak what she wants too.
Later, Rajiv confront Tejasswi about her fight with Shamita. He asks Tejasswi why she feel Karan is after Shamita. Tejasswi defend herself. Rajiv says to Tejasswi she looked very vulgar to watch her while, she was attacking Shamita. Tejasswi tell to Rajiv that Shamita broke her trust.
Next, Shamita talks with her mother. Her mother asks to come back home with trophy.
8 PM: Buzzer ring; Pratik decide to talk with his mother. His mother gets happy seeing inmates. She also thanks Nishant for always being there for Pratik. [Episode Ends]