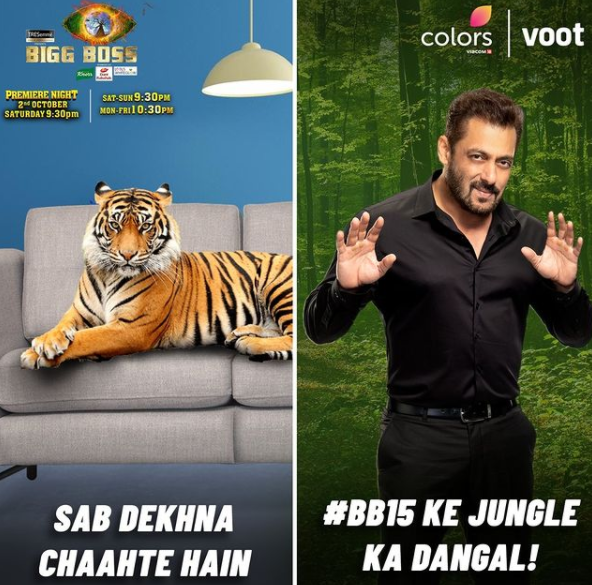 Bigg Boss 15 27th November 2021 Written Update on SerialGossip.in
Episode starts with Salman Khan promoting "Tadap" movie and telling about the elimination of four contestants, Vishal, Jay, Neha and Simba. He also tells about the entry of new VIP's Devoleena, Rashami, Rakhi and Ritesh. He informs that Rakhi's husband is real and now everyone can see him inside the house. He tells about the task given to the new contestants by Bigg Boss to wake the other contestants.
Devoleena chooses Tejasswi and Shamita and throws mud on them. She says that she isn't seeing Tejasswi's involvement in the game except for her relationship with Karan. Meanwhile, she gives reason for Shamita that she stopped talking to Nishant for one mistake but haven't broken her relationship with Vishal even after learning about his truth. Shamita replies that she wanted to give him a chance and says that every contestants do back biting. Shamita takes stand for Vishal, while Devoleena and Rashami tells that she needs support to play the game. Shamita gets provoked and shouts at them, she says that everyone tries to save their friends, while Devoleena pours the mud on Shamita.
Ahead, Rashami comes forward and calls Shamita. She also advice her to play her game without any support and pours the mud on her. Afterwards, she calls Karan and pours mud on him asking him to do something in the show other then making relationship with Tejasswi.
Ritesh comes forward and calls Shamita. He tells about his fondness towards her but states that she is being lost and isn't doing anything in the show. He advice her to buck up and pours the mud on her. Everyone appreciates the way he explained his points and hoots for him.
Meanwhile, Rakhi comes and calls Karan. She pours mud on him and says that after initial 2 weeks his game falls down. She advice him to focus on game rather then getting close to Tejasswi. Then, she calls Pratik and pours mud on him stating that he isn't playing for himself. She advice him to stop thinking about anyone else and points out about saving Neha, while she had done nothing for him. He promises to focus on his game. Ahead, she calls Umar and pours mud on him and questions about his on and off friendship and rivalry with Pratik. She calls Rajiv, while everyone gets surprised. She ask him to speak for himself and stop following Shamita's instructions. She points out about tearing Afsana's photo on Shamita's instance. Rashami also points out about it, while Devoleena pours mud on him along with Rakhi.
Tejasswi speaks on the matter and says that Rajiv should do everything with his will. She reminds that Rajiv was crying when Afsana left and was apologising to cameras, while Shamita stops her reminding about the fight and ask how she expect her to let Rajiv keep Afsana's picture. To which, Tejasswi says that it should be Rajiv's personal decision. She reminds that same thing happened during Pratik and Rajiv's matter, when she took stand for Rajiv. She says that now he and Pratik are friends, so why he can't mingle his friendship with Afsana? Shamita says that both scenario's are different, to which other says that it isn't. Rajiv tries to talk, while Pratik interferes. Rajiv says that he can't speak with such interference, to which Rakhi says that he have to do it.
Rakhi calls Nishant and pours mud on him stating that he has become a side kick. She advice him to play in front, to which he starts his argument. Karan and Nishant gets into verbal argument, while Pratik and Umar also interferes. Rakhi tries to stop them.
Karan says that Nishant have different assumptions about him and isn't ready to clearify. They both blames each other for having differences. Rashami comes in between and advice Karan not to let anyone backstab him. She advice him to leave such friends who backstabs pointing at Nishant. Umar explains about the miscommunication in between Karan and Nishant, while Tejasswi tells Nishant that she knows he laughs behind him but she still consider him as her friend as she don't give up easily. She says that if her other friends protect her and get concerned for her regarding Nishant, then they aren't wrong.
Salman Khan greets all the contestants on weekend ka waar. He asks about Rakhi and his husband, while Ritesh says that he was coward not to accept his relationship with Rakhi earlier but now he have realised her value. He praises Rakhi. Later, Salman ask him to bring a rose from store room and he gives it to Shamita expressing his fondness towards her. Salman ask him to give the flower to Rakhi, whereas he expresses his love and respect towards her.
Salman shows his disappointment towards the contestants and says that they aren't playing good. He says that they have brought other contestants of previous years to wake them up. He says that Simba was better then the contestants who were left. He also praises the wild card contestants. He reminds them about the great players of Bigg Boss and gives example of Gautam Gulati and Sidharth Shukla. He says that he can't see anyone as the winner in this season.
Further, Salman says that only Shamita is showing herself as a winner. He questions Rashami and Devoleena for pointing out on Shamita, while they gives their explanation that Shamita doesn't play her own game and depends upon others. Shamita starts crying and explains herself, while Salman supports her. He took stand for Shamita and shuts Devoleena.
Salman questions Pratik about his decision of not saving Simba. Pratik replies that Neha was her priority, to which Salman says that he was most close with Simba but still he betrayed him. Salman ask Pratik to be clear about his decision, while Umar also says that Pratik was wrong, Pratik starts an argument with Umar but Salman scolds and stops him.
Later, Salman questions Karan for his dual behaviour. He says that Karan isn't clear about his decision and after a fight he goes and talks with the same person as if nothing happened, but stop his friends from doing the same. Karan gives his explanation and says that he just cares for his close ones and gives advice to them.
Salman questions from Tejasswi that if Karan is right? To which she replies that he never tries to force her to do something. She says that he just advice her, to which Salman says that their night conversation is totally different from what is she saying right now. Salman advice them to stop their love story and focus on game. Rashami says how they both follows each other on everything. Salman says that their is no effort given by Karan for the show. He advice everyone to focus on their game.
Later, Shamita discuss with Nishant about the way she is, she states that it's her nature that she cares about her close ones and she won't change it for anything. She says that everyone is pointing out about this to her, but she can't change herself.
Karan talks with Karan and says that he appreciates her advice. She says that he have stopped playing his game, while he talks about Nishant and declares that he can't trust him at all. Meanwhile, Tejasswi and Nishant talks with eachother. She says that everyone back bite about each other, while he says that they both will be great friends outside Bigg Boss house. She says that she have seen people misusing eachother badly in the show.
Rakhi walks with her husband and talks about his shayari. Meanwhile, Shamita praises Ritesh. Later, Vivian and Eisha comes to promote their show "Sirf Tum". They greets all the contestants and takes a compatibility test of Tejasswi-Karan and Rakhi-Ritesh. They asks questions from both the couples and Karan-Tejasswi wins it. Later, they test their chemistry and ask both the couples to dance.
Karan and Tejasswi dances on "Saari Ke Fall Sa" song. Whereas, Rakhi and Ritesh also performs really well. Everyone appreciates Rakhi and Ritesh, while Salman praises them. Vivian and Eisha declares Tejasswi and Karan winner for compatibility test, while Rakhi and Ritesh winner for Chemistry test. Later, Vivian and Eisha bids adieu to Salman.
Ahead, Salman welcomes Ravi Dubey and Ravi Kishan to promote their web series. Both of them tells about their character in "Matsyakand". Ravi Kishan says how Bigg Boss changed his life and then they gets inside the house. Inmates gets excited seeing them, while Ravi says that they aren't seeing any friendship bond inside the house and ask them to relax their mind.
Ravi ask them to tell a contestant name who isn't a threat to them. Pratik says how Rashami tries to manipulate him against Nishant and says that no one can break their bond. He takes Rashami's name and breaks the bottle on her head as per the game rule. Ahead, Shamita comes and she calls Devoleena. They both have an argument and then Shamita breaks the bottle on Devoleena's head. Next, Umar comes and takes Ritesh's name. Meanwhile, he and Shamita gets into an argument, she says that she always takes stand for herself and shuts him. Whereas, Ritesh gives a great example about himself, while inmates praises him.
Nishant comes and takes Rakhi's name. He says that he wants to break her entertainment record while she challenges him..later, they both dances on "Tu Khiladi Mai Anadi" song.
Karan comes and takes Devoleena's name. He says that he wants to be her threat in the game but now he doesn't consider her as his threat. She says that she will make sure to challenge him. Tejasswi states that everyone is against her and Karan's relationship, while Ravi Dubey states that Karan and Tejasswi looks really adorable together, while others agrees.
Rajiv comes and takes Rakhi's name. He says that she can't be as entertaining as him and so he doesn't consider her as a threat. Housemates laughs. Later, Tejasswi comes and takes Devoleena's name. She says that she do take her stand and do stand for right, while Devoleena states that when the matter of Karan comes then Tejasswi forgets what's wrong and what's right. They both have an argument, while Tejasswi breaks the bottle in Devoleena's head.
Meanwhile, Ravi Dubey promotes his web series and states that most of the inmates doesn't consider Devoleena as their threats. They goes away from there.
Shamita and Rajiv talks about Umar. She says that she will give him back the way he treats her. Later, he talks about Devoleena and Rashami and states that they both fights really strongly. Shamita says that it's too early to judge them as she doesn't know much about them. Ahead, she talks to Devoleena and both initiates to talk to each other regarding their differences.
Further, Salman ask audiences to watch the film of Ahaan Shetty and bids adieu.
Episode Ends
Click to read