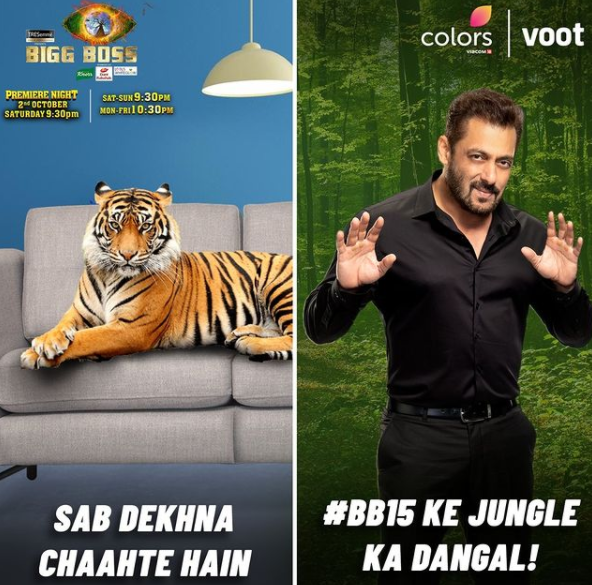 Bigg Boss 15 9th January 2022 Written Update on SerialGossip.in
Today's episode start with Salman Khan's greeting. He says each contender might try to impress you as it is finale week. Khan perform 'use' and 'used' task with the inmates. He meet inmates. Salman Khan asks which contender bluff a lot. Inmates vote for Rakhi and Abhjit. He further asks inmates to perform 'Use and throw' task with housemates. Task starts with Pratik. Pratik vote against Tejasswi and says Karan has used her. Nishant says Umar is being used by Karan.
Shamita vote for Devoleena and quoted Abhijit has used latter. Devoleena says Karan has used Tejasswi emotionally. Rakhi says Abhijit is being used by many. Karan says Devoleena used Tejasswi. Tejasswi and Rashmi quoted Umar has used them.
Umar says Tejasswi has used Devoleena. Task ended with Abhijit claiming Devoleena has used him.
On the stage; Arbaaz Khan enters the stage. Salman and Arbaaz share fun talk with each other. He promote Knor brand. Later, Salman introduces Bigg Boss panel to the audience. Choreographer Geeta support Nishant Bhatt and praises his game. Neha Bhasin support Shamita. Divya Agarwal support Karan Kundrra. Vishal Singh support Devoleena. Kashmera Shah give her support to Tejasswi. And Rahul Mahajan support Rakhi. Debina support Rashami.
Salman asks Debina is she will mark her entry in Bigg Boss. Debina refuses and says because of her personal issues she will not. Panel meet inmates. They get elated seeing their supporters. Salman starts the discussion and ask panel members to evict whom they don't want to see in the finale week. Task starts with Kasmera. Kasmera says she don't want to see Karan as he misbehaves with Tejasswi. Divya Agarwal side Karan. Verbal argument happen between Kasmera and Divya. Neha, Vishal and others ask Tejasswi to play individually.
Divya advice Karan to focus on game and stop trying to impress everyone in the house. Salman asks Divya to tell whom she want to evict. Divya says she want to replace Shamita with Nishant. Shamita argues with Divya.
Next, Neha removes Abhijit's picture and supported Pratik. Verbal argument happen between Abhijit and Neha.
Vishal says he too want to see Devoleena in place of Abhijit as Bichukale is not doing anything in the house.
Debina give her support to Pratik and praise his personality. She remove Abhijit's photo. Geeta says only Rakhi is playing the game in the house rest all are doing nothing. She also give her support to Nishant too.
Salman praise Nishant too. Lastly, Rahul Mahajan replaces Karan with Rakhi. Host says panel don't want to see Karan and Abhijit in the finale. Divya support Umar Riaz.
Salman discuss with panel about Umar Riaz getting physical with Pratik post Divya support him. Most of the panel members find Umar aggressive. Khan announce Umar's eviction.
Karan and Rashami gets emotional with Umar's eviction. Umar meet everyone and left the house. He apologize to Pratik before leaving.
Shamita and Rakhi console Rashami.
Karan cries and Tejaswwi console him. He recall how Umar fought for him till last. Nishant and Devoleena tries to calm Rashami. Rashami says Umar deserve to be inside the house.
Devoleena and Karan console Rashami.
Furthermore, Nishant encourages Karan. Karan claim he had a bad day. Late at night Devoleena and Rashami bonds together. [Episode Ends]
Click to read