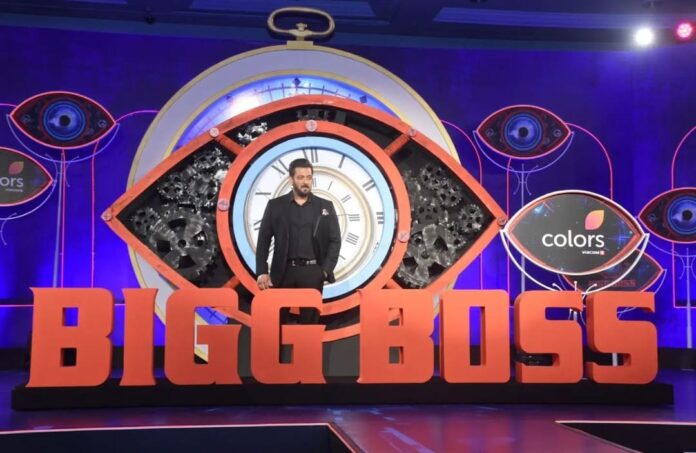 Bigg Boss 16 12th November 2022 Written Update On SerialGossip.in
Today's episode started with Salman Khan's greeting. He talks about Priyanka and Ankit. Salman adds there will be an important elimation tonight. He meets inmates. Salman asks Priyanka and Ankit if they understood or not. Priyanka and Ankit nods.
Salman says amid Priyanka, Sumbul and Gori one will surely leave the place. He says without wasting further time he will disclose the name. Salman says Priyanka got evicted. He asks Ankit and others to bid adieu to Priyanka. Salman asks Ankit to start playing his game.
Priyanka meet inmates. She gets teary. Sajid asks Priyanka not to worry as he will take care of Ankit. Gori and Soundarya feel bad for Priyanka. Salman asks Priyanka to leave. Priyanka promise to play her own game. Shalin, Nimrit and Tina say it might be a prank.
Salman asks Ankit how he is feeling. Ankit says he is feeling lost. Salman says not Priyanka but Gori is leaving. He says prank was to open Priyanka and Ankit's eye. Gori bid adieu to inmates. Inmates wish luck to Gori. Gori leave the house.
Ankit apologize to Priyanka. Priyanka regret worrying about others and doing her loss. Ankit comfort Priyanka.
Priyanka talks with Ankit and says she will not bother about anyone and will only think about herself. She asks Ankit why he doesn't speak up. Ankit asks Priyanka to think about herself and he has advised the same.
Nimrit, Shiv discuss about Priyanka and Ankit. Shiv says Salman might have given the clarity to Priyanka and Ankit.
Shalin talks with Nimrit and says Ankit is clear that he doesn't want to get settled in the house. Nimrit agrees to Shalin.
Priyanka complaint to Ankit that because of his nature she is being portrayed diplomatic. She asks Ankit to play his game as she isn't going to guide him anymore.
Sajid advice Ankit to follow his heart. He jokes on Gori and says who will steal ration fromt heir room. Nimrit and Abdu laughs.
Sajid asks Priyanka to leave Ankit sometimes. Ankit says Priyanka always ask him to go.
Salman welcome Kriti Sanon and Varun Dhawan. Varun promote his upcoming movie bhediya. Kriti and Varun compete to prove who is Salman Khan's fan.
Salman performs blind folded task with Varun and Kriti. Kriti wins the task.
Salman send Kriti and Varun inside the house. Kriti and Varun meet the inmates. Salman promote Licious app.
Varun and Kriti perform a task with inmates. Task started with Priyanka and ended with Ankit.
Varun gets impressed with Ankit's explanation. He further asks inmates to guess who has bitched about whom and shower the spray.
Task start with Soundarya. Soundarya guessed Tina bitched about her. Shalin too guessed Tina talked behind his back.
Varun and Kriti exposed Sumbul, Shiv and Abdu.
Shalin confront Tina about talking behind his back. Tina defends herself.
Afterwards, Salman confront Archana about her reaction in the house. Archana regret her action in the house. She says Shiv was provoking her. Salma says thus she will hold someone's neck. Archana feels sorry. She asks Salman to give her one last chance. Salman says the type of content she was giving isn't needed.
Salman bashes Archana. Archana feels sorry. Salman says Priyanka tried to support her but she disrespected her too. Salman asks Archana to wait until he comes back
Salman talks with Nimrit. He asks Nimrit who barks on the name of humanity. Nimrit tries to explain. Salman bashes Nirmit for using foul language.
Salman further highlight Sajid, Gautam, Shalin and Stan smokes openly in the house. Shalin explains and Salman ignores former.
Salman talks about Archana and Shiv's fight.
Salman asks who all witnessed Archana's violence towards Shiv. Everyone raises the hand against Archana.
Salman asks Tina to explain the incident. Tina explains Archana hiding sugar and tissue boxes. Salman hears Tina. He further asks Priyanka to explain more. Archana gets teary hearing Priyanka.
Tina tries to prove Archana wrong. Salman asks Tina if she is sure whatever she is explaining.
Salman says even Sumbul tried to hit Archana. Sumbul defends herself and says Archana instigated her. Salman says Archana didn't went to her rather Sumbul herself go to her.
Salman asks inmates to tell who all think Archana's reaction was intend to hurt. Nimrit vote against Archana.
Priyanka support Archana.
Salman shows Shiv's strategy to provoke Archana.
Salman says Shiv deliberately instigated Archana and well executed his plan to throw her out.
Shiv defends himself.
Salman says Stan supported Shiv in plotting against Archana. He says both poked Archana to her boiling point.
Salman alerts Shiv about provoking wrongly. He further praises Archana for treating everyone as her competitor.
Archana gets 6 votes in her favour to return to the house. Salman brings back Archana. Archana, Priyanka, Soundarya gets happy.
Tina asks Sumbul why she voted in favour of Archana. Sumbul explains herself.
Sajid asks Ankit, Priyanka and Soundarya how they can support Archana. Ankit, Soundarya and Ankit explain to Sajid.
Salman says Archana will enter the house soon. [Episode Ends]
Also See: