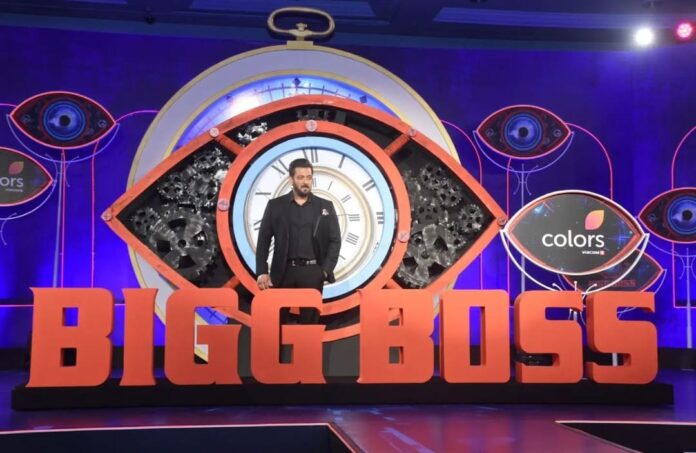 Bigg Boss 16 1st October 2022 Written Update on SerialGossip.in
Today's episode started with Bigg Boss introducing the season 16. Salman Khan greets and welcomes the audience. He discusses about the show theme and says Bigg Boss himself will be a player this time.
Salman starts the show by calling Nimrit Kaur Alhuwalia from Choti Sarrdarni on the stage. Nimrit share her story blindfolded. She told why she is excited to go inside the house and why Salman Khan is her lucky charm. Nimrit asks Salman to be with her in her Bigg Boss journey. She wishes fans shower her love to Nimrit like her character Choti Sarrdarrni.
Nimrit tells to Salman that she is a lawyer too. She performs a courtroom drama with Salman. Salman involves himself in the task. Nimrit demands to dance with Salman. Salman performs with Nimrit.
Nimrit enters the house. Bigg Boss welcomes Nimrit and decides to make her visit the house as she is the first contender. Bigg Boss shows her all the important areas of Bigg Boss house right from dinning room to living area. Nimrit gets excited seeing the house.
Bigg Boss 16 gives an opportunity to Nimrit to become first captain of the house. He asks her to allow the upcoming contender one duty and bed. Nimrit accepts the challenge.
Salman Khan welcomes Abdu on the stage. Abdu sings song from Salman Khan's movie. Salman share a talk with Abdu. Abdu tells he is 19 years old and a singer and boxer.
Abdu wishes to become the captain of the house. Abdu enters the house and meet Nimrit. Nimrit allots duty and bed to Abdu. Abdu decides to take over kitchen as he likes to cook. He checks for his bed too. Nimrit helps Abdu in setting his stuffs.
Salman Khan next welcome Ankit Gupta and Priyanka Chaudhary on the stage.
Ankit and Priyanka shares a talk with Salman. They talk about Udaariyaan. Priyanka confess Ankit is her good friend and talks about their bond. Salman enjoy Priyanka and Ankit's banter.
Salman performs compatibility test with Ankit and Priyanka. He further test who amid Priyanka and Ankit will wink. Ankit makes Priyanka win.
Priyanka and Ankit enter the house. Nimrit discuss about duties and bed with PRIANKIT. Priyanka and Ankit discuss the duties.
Salman introduces MC stan. MC Stan says post entering the house he will not clean washroom at any cost. He performs rap and entertains Salman. MC stan introduces his life and work. He confess clearing his controversies thus bagged Bigg Boss 16.
Salman asks MC Stan about his name. MC Stan tells his original name is ALTAF. Salman asks MC about his game plan. MC says since Bigg Boss is playing thus he took this offer. He says he will miss his family and girlfriend. Salman sends MC inside the house. Housemates meet MC Stan.
Reporter introduces Archana Gautam. He asks name the stuff she can't live without. Archana tells she can't live without chutney thus she is carrying grinding stone.
Salman welcome Archana Gautam. Archana gets excited to play the game. She shares the talk with Salman.
Salman Khan introduces Gautam Vij. Gautam says he will kill it with his charm and doesn't know cooking. Salman shares a talk with Gautam and Archana. Further, Gautam and Archana meet housemates.
Archana says she cooks well when housemates sees grinding stone and asks her to make chutney for them. Nimrit shows bed room to Archana. Archana selects her bed.
Bigg Boss calls Nimrit to confession room. Bigg Boss says he feels he did a mistake by choosing her as a captain. He confront about revealing the task. Nimrit realizes her mistake. Bigg Boss asks to perform the task and prove herself. Nimrit feels bad for disappointing bigg boss.
Housemates talks with Abdu and enjoys.
Shalin Bhanot introduces himself. Salman Khan shares a talk with Shalin.
Salman welcome Dr. Sondarya Sharma. He also call Marathi actor Shiv Thakre. Shiv Thakre tells Bigg Boss is his dream and he is here to win. Salman shares a talk with Shiv and Soundrya. Shiv says he is already Bigg Boss Marathi winner and now he will lift Bigg Boss 16 title. Soundrya and Shiv meets the contender. Nimrit allot bed to Soundrya.
Salman introduces Sumbul Touqeer. Sumbul performs on chakachak dance. Salman asks Sumbul she seems confident will she continue to be the one post entering the house. Sumbul says she only fear his scolding else she isn't numerous to be inside the house.
Sumbul enacts Salman Khan and entertains the host and audience. She further reads the poem written by her father. Sumbul's father enters the stage and meets Salman Khan. Salman shares the talk with Sumbul and her father. Sumbul's father encourages her. Salman praises Sumbul's father. He further sends her inside the house. Sumbul meet housemates.
Archana laughs on Sumbul's name. Shiv accompanies Archana and makes fun of Sumbul.
Miss India 2022 runner up Manya Singh introduces herself. Salman welcome Manya and talks with her.
Manya gets excited to be in the house and share about her life and struggle. Salman wishes Manya good luck. Manya meet housemates. Nimrit allot bed to Manya. Manya disagree with Nimrit about bed side. Archana tries to benefit the situation. Nimrit asks Archana not to interrupt. Manya compromises for time being.
Gori Nigori dances. Salman Khan welcomes Gori. Both share the talk. Gori says her family don't support her. Salman asks Gori's mother to support her as she dances well. Salman teaches Gori English. Gori enters the house post sharing talk with Salman.
Tina Datta meets Salman and gifts him sweet. Both share the talk.
Shreejita Dey enters the house. Tina and Shreejita pretend to be a good friend. Salman shows the video of Shreejita claiming she isn't friend with Tina.
Nimrit and Archana argue post former asks latter to dump her bag. Archana loses her cool. She asks Bigg Boss to give her bags.
Sajid Khan enters the stage. Salman Khan welcomes Sajid as a contender. Both shares their childhood memory and friendship. Sajid confesses about exploring himself by bagging Bigg Boss.
Salman shows Shehnaaz's message for Sajid. Sajid praises Shehnaaz's personality. Salman send Sajid nside the house. Bigg Boss welcomes Sajid. Housemates meet Sajid. [Episode Ends]
Precap: Bigg Boss asks contenders to learn Bigg Boss anthem. Shalin says he will slit his wrist.