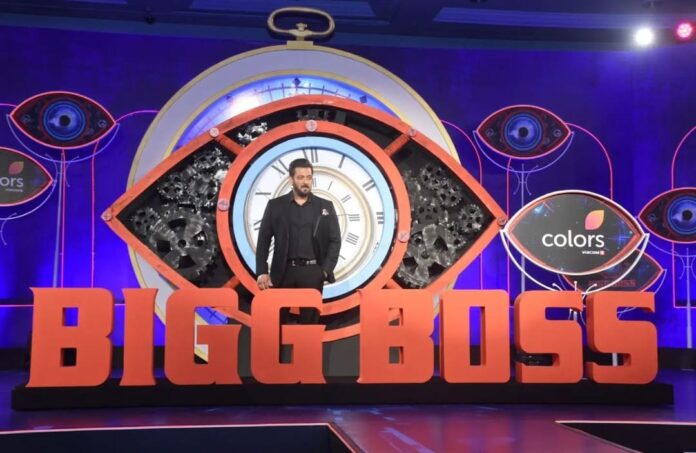 Bigg Boss 16 2 24th November 2022 Written Update On SerialGossip.in
Today's episode start with Day 54 at 8 AM: inmates gather to sing bigg boss anthem.
9:15 AM: Shalin talk with Nimrit, Tina and Sajid. He says Tina wants to become the captain and they should support her. Nimrit says Priyanka, Ankit, Soundarya and Archana should not get a chance and she is okay whosoever becomes.
Tina asks Sajid to give her guarantee. Nirmit asks Tina why she doesn't trust them. Tina and Nimrit argue with each other. Shalin asks Nimrit if she will make Tina captain or not. Nimrit decide to perform a task. Sajid asks Tina to go and talk with Nimrit. Tina refuses to go to Nimrit. Shalin advice Tina to talk with Nimrit else it will backfire to them only. Tina decides to play individually.
9:30 AM: Nimrit talk with Shalin and says Tina never trust her. She adds Tina wants her to commit on camera that she don't want to become a captain. Shalin tries to bridge between Tina and Nimrit. Nimrit and Tina talks with each other.
Nimrit says whenever Tina is pissed she throws attitude to her.
Priyanka and Ankit talk with each other. She says if dictator is from their team it will be beneficial. Priyanka doubts the same.
Sajid asks Shiv to be the captain if he gets the chance. Shiv says only Abdu, Stan, Sajid are core team.
12:15 PM: Sajid, Ankit, Shiv and Sumbul talk about voting system of the game. Sajid says voting plays a role in the show. He explains to Ankit
3:45 PM: bigg boss address inmates. He talks about contenders getting upset with each other for some or other reason. Bigg boss talks about transparency between them and him.
Bigg boss claim he took the decision on the humanitarian ground but Mr. Khan and Sumbul misused the opportunity.
Bigg boss tells to inmates about Sumbul's father conversation with Sumbul. He shows the clip of Sumbul's father asking Sumbul to stay away from Shalin and Tina. Mr. Khan was spotted asking Sumbul to show Shalin and Tina their place on the National TV.
Shalin freaks out and asks Sumbul to stay away. Tina gets angry too. Sumbul tries to defend herselfTina and Shalin get angry on Sumbul. Shalin worries for his image. He gets angry on Mr. Khan for abusing her. Tina says Mr. Khan also abused her.
Sajid, Nimrit, Stan and Tina console Shalin.
Shalin decide to confront Sumbul. Nimrit tries to comfort Shalin. Shalin asks Sumbul why she sit with them despite giving promise to her father. Sumbul tries to defend herself. Shiv, Priyanka side Sumbul and tells to her where she went wrong. . Tina says Sumbul's father can't handle her daughter and doing character assassination of her.
Tina thanks bigg boss for showing the clip. Shalin asks Sumbul to change her room.
Nimrit says interference of family member is unfair to them. Tina agree.
Sajig asks Sumbul if she knew what her father advised than why she was sitting with Tina and Shalin.
Sumbul hyperventilates. Nimrit urge bigg boss to call Sumbul to the medical room.
Shalin talk with Priyanka, Ankit and discuss about Sumbul. Priyanka find Sumbul's father wrong.
Shiv give his support to Sumbul.
Priyanka and Sajid talk. She says Sumbul doesn't understand her father than none can make her understand.
Shalin comfort Tina. Tina accuses Touqeer Khan for using her for saving Sumbul's respect. She freak out on Mr. Khan for doing her character assassination. Tina says her father too can reply but he will never do that.
Tina, Shalin says Mr.Khan and Sumbul is playing game and doing planning and plotting. She salute bigg boss for bringing up the conversation in front of them.
Sumbul is called to the medical room.
Nimrit asks Shalin and Tina not to argue with each other. Tina asks Shalin to stay away from her. Shalin asks Tina not to start again. Tina worries about her character. Shalin tries to
4:30 PM: Tina asks Sumbul to keep her away from her and Shalin. She asks Sumbul to tell to her father the same.
Sumbul defends and cries.
Archana, Priyanka and Soundarya say they break the other team.
Sajid asks Sumbul to sit in group or her father might accuse anyone. He asks her to pray that she goes out. Sumbul wish the same. Priyanka says she is feeling bad for Sumbul and discuss with Soundarya and Archana.
4:45 PM: Shalin confront Sumbul if she talked with him post or before the call. Sumbul says post the call.
Sajid asks Sumbul to apologize to Tina and Shalin and part ways. Sumbul apologize to Shalin and Tina. Shalin and Tina refuse to forgive Sumbul.
Tina asks why Sumbul was sharing bed with Shalin. Sajid and Nimrit ask Sumbul to answer. Sumbul says she was sacred post Shalin and Stan's fight.
Bigg boss asks Sajid about the luch. Sajid tells Schezwan fried rice. He further explains about BB fisheries task.
5:30 PM: Bigg boss asks room of 3, 4 and 6 to collect the fishes to become the contender for the captaincy task removing Shiv, Tina and Nimrit. Stan becomes the dictator of the task.
5:45 PM: Ankit, Priyanka and Soundarya make the task strategy. Sajid, Shalin, Shiv and Stan makes the task strategy.
Task starts with Ankit, Sumbul and Soundarya. Shiv, Nimrit tries to block Soundarya and Ankit's way to support Sumbul. Stan rejects Soundarya, Sumbul and Ankit's basket.
In second round, Priyanka, Ankit and Soundarya compete against Shiv, Tina and Nimrit. Sajid says since Archana went too thus other team is disqualified. Stan disqualified Priyanka, Ankit and Soundarya's basket. He claim Archana break the rule.
6 PM: Nimrit, Tina, Shiv and Shalin make the task strategy.
6:15 PM: Archana and Shiv argues with each other. Sajid asks Sumbul to go and fight with Archana and he will back up her. He further gets angry on Archana. Sumbul tries to fight with Archana. Archana asks Sumbul not to argue.
Sajid says Archana deserves one slap as she is poking again. Abdu, Shalin, Tina calms Sajid.
Shiv and Archana at loggerheads. [Episode Ends]
Also See: