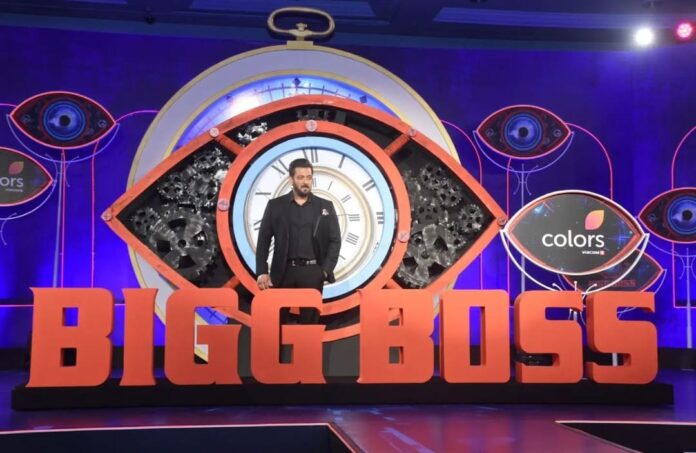 Bigg Boss 16 2 26th November 2022 Written Update On SerialGossip.in
Today's episode started with Salman Khan's greeting. He talks about Sumbul and Mr. Touqeer'c conversation. Salman says Sumbul , Shalin and Tina's parents will share the stage to discuss the matter.
Salman talks with inmates. He says this week only two contenders run the show. Inmates takes Archana and Sajid's name. Salman says Sajid claim Archana re-entered the show by begging while Archana claim Sajid has followers in the house.
Salman asks Archana and Sajid to complaint to each other. Sajid and Archana accuse each other.
Sajid claim Archana provokes other mates.
Archana says Sajid keeps saying she entered the house by begging.
Salman further discuss Archana and Sajid's matter.
Sajid apologize in front of Salman and says he went overboard in his fight with Archana. Archana calim Sajid says he will throw her out from the house.
Archana says Salman and bigg boss brought her back in the house.
Salman asks Sajid post calming down if he realized his mistake. Sajid says he regret using few things in the house. He add Archana has a misconception that she runs the house and others are lazy.
Salman asks Archana and Sajid to sit separately. He says he wants to talk with other mates too.
Salman asks Stan if he is nominated and doing anything in the game. Stan says he is little low this week. Salman says Stan is saved today. Stan gets happy.
Host Salman says house is divided into two teams. He says half members supporting Sajid while other half berating their own friend in front of all. He discuss with Archana, Priyanka. Salman confront Priyanka about berating Archana in her fight with Sajid.
Archana claim her side member don't play in front and fear Sajid but back bitch about him. Priyanka claim Archana herself comment on her thus she fail to support her.
Salman claim Priyanka laughs on Archana when she cracks joke on others but back off when it comes to her. Priyanka defends herself.
Salman asks Soundarya and Priyanka to highlight where Archana was wrong.
Salman accuse Priyanka for throwing her own friends under the bus to pretend good in front of the camera. He says Priyanka claim she can fly solo but they can't feel the same.
Salman says to Priyanka that she is playing good but not actually. He says he wants to open her eyes.
Salman says Archana's language is a problem that goes against her.
Salman says Sajid has a panel of lawyers who support him even if he is wrong. He asks Sajid if he needs a friend who doesn't correct him where he was wrong. Salman asks Nimrit if Sajid wasn't wrong this week. Nimrit defends Sajid again. Salman says to Nirmit that she is manipulating words.
Salman ask Shiv if Sajid wasn't wrong this week. Shiv says Sajid was wrong. Salman asks then why none stopped Sajid.
Salman tell to contenders about Sajid's actual word when he was fighting with Archana.
Salman says because of Archana's tongue her personality comes out wrong. He further says from makers to Sajid none can throw anyone out from the house other than fans.
Salman asks Sajid he always says to Archana that she came back by begging. He asks Sajid if he taunts Archana or makers. Sajid realize his mistake and hugs Archana.
Salman further says Sajid supported Tina and Nimrit blindly in their fight with Archana. He reveal Tina lied in the fight with Archana. Tina defends herself.
Salman expose Ankit and says he talked with Sajid about channel voting system. He says Ankit is evicted. Inmates get emotional.
Salman comes back and says Archana and Ankit is saved. He says amid Sumbul and Soundarya one is going back home.
Archana, Sajid apologize to each other on camera.
Salman welcome Kajol on the stage. Kajol promote her movie Salaam Wenky. Both give task to each other. Salman call director Revti on the stage too.
Kajol and Revti meet inmates. Sajid gets happy seeing Kajol and Revti.
Kajol and Revti perform a task with inmates. Task starts with Sajid and ended with Soundarya.
Sajid asks Archana not to fight with him. Archana says she doesn't. Sajid add she can fight but she should not misbehave.
Archana and Soundarya patch up. Archana, Ankit, Priyanka and Soundarya talk with each other. Sajid asks Shiv if he is thinking something. Shiv confesses he is thinking about the team word Salman quoted.
Salman welcome Tina's mother, Shalin's parent. Salman asks them if they think Tina and Shalin creating love angle for the game.
Tina's mother says she can't believe that. Shalin's parent says they like Tina. Salman asks Tina's mother about Shalin. Madhumita says she gets angry when Shalin yells at Tina.
Salman discuss about Tina and Shalin with their parents.
Salman call Sumbul's father on the stage. He says bigg boss allowed Touqeer Khan to talk with Sumbul making his heath issue. Salman says Touqeer Khan misused the opportunity and talked about the game.
Touqeer Khan apologizes to Tina's mother for using foul language for Tina. He defends himself.
Madhumati and Touqeer argue with each other.
Salman corrects Touqeer Khan about lying to them and making a call to Sumbul.
Shalin's parent too argues with Touqeer.
Salman advice Touqeer to stop watching Weeken Ka vaar if his health is affecting post latter claim he was hospitalised after the show.
Later, Salman welcome Fahmaan and Kritika on the stage. Both promote their show Pyar Ke Saath Vachan 'Dharampatni'. Fahmaan elaborate the plot.
Fahmaan and Kritika perform a task with Salman.
Salman perform use and throw task with inmates. He asks contenders to tell who is being used and throw in the game.
Archana says Abdu and Stan are being used.
Shalin, Tina, Abdu, Shiv says Ankit is being used.
Tina says Soundarya is being used by Archana.
Nimrit says Archana is being used by Soundarya
Sajid, Sumbul says Archana is being used.
Ankit claim Tina and Shalin is using Shiv
Priyanka, Soundarya says Stan is being used by Shiv, Sajid, Shiv and his team.
Archana wins the task
Salman says no elimination.
Sumbul cries. Shiv and Sajid confront.
Abdu talks with Nirmit and says he can't trust Shalin.
Shiv joins Nirmit and Abdu. Nirmit says she isn't able to trust Tina. Shiv give advice to Nimrit.
Shalin claim Tina talk with him for camera. Tina gets upset and argues with Shalin. [Episode Ends]
Also See: