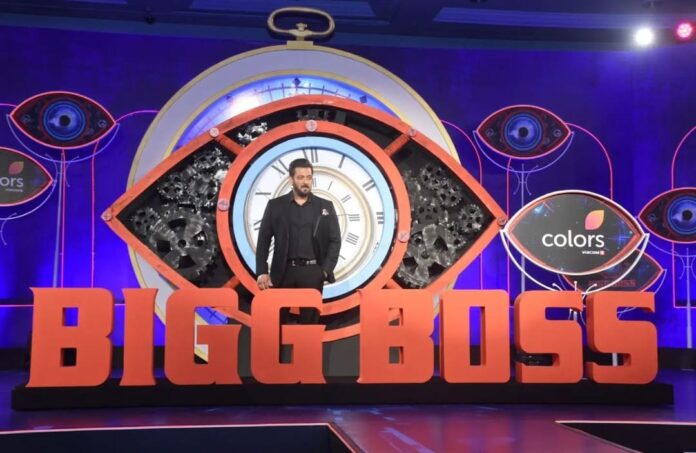 Bigg Boss 16 5th December 2022 Written Update On SerialGossip.in
Today's episode start with Day 65 At 8AM: inmates gather to sing bigg boss anthem.
9 AM: Shalin and Tina share talk with each other. Archana talks with Soundarya and says Shalin and Tina's relationship is fake and it is evident. Sajid says to Nimrit that she is sleeping being queen. Nimrit says it is last day of her captaincy. Soundarya says she wants to make Ankit the captain to see what he does post becoming the king. Archana says he will sleep.
10:45 AM: Shalin talk with Shiv and asks to support in the captaincy task. Shiv didn't assure Shalin.
11 AM: Tina says to Shalin that other team will side Sumbul in the captaincy. Shalin disagree with Tina. Tina and Shalin argue with each other.
1:45 PM: Tina compliment Ankit. Ankit asks Shalin not to get jealous. Shalin says he isn't.
Nimrit asks Abdu why he is irritated. Abdu says because Shiv makes faces whenever he talks with Nimrit. Nimrit says because Shiv is her friend.
Priyanka says to Ankit that he is changed from past 2-3 days. Archana think what if Ankit befriend her. Ankit says both will drink and enjoy. Archana says Ankit is looking like a hero.
3 PM: Bigg boss address inmates. He talks about captaincy task. Bigg boss says Sumbul , Shalin, Priyanka and Ankit will perform the task. Bigg boss says four of them have to mess the T-shirts under BB DhobhiGhat task.
3:15 PM: Priyanka, Ankit, Sumbul and Shalin make the task strategy.
Nimrit become the task dictator for the first round.
Shalin destroys Sumbul's. Priyanka, Shalin and Ankit against Sumbul. Sajid says all are ganging up against Sumbul.
Sumbul says they claim playing individually but now they flipped. Priyanka says when other day all used to play in team then they didn't have any problem.
Soundarya asks Sajid not to help Sumbul. Sajid says he will help.
4 PM: Bigg boss asks Nimrit to tell whose clothes are cleaner. Nimrit takes Shalin's name. Shalin is asked to evict on contender. Shalin evict Sumbul in the first round.
Shalin says he don't find Sumbul worthy to become a captain.
Sumbul claim Team of 4 is scared of her. Priyanka argues with Sumbul.
Shalin asks Shiv to help him in the task.
Sajid asks Ankit to pray he become the dictator. Priyanka says she don't want Sajid to become the dictator. Sajid decide to support Ankit. Priyanka says she is only fine if Sajid support Ankit.
Priyanka, Shalin and Ankit decide to play individually.
4:15 PM: Sumbul become the dictator for the second round. Second round starts. Shalin, Priyanka, Ankit performs the task.
Tina asks Shalin to target Ankit. Nimrit talk with Sajid and says Sumbul will evict Shalin and it is evident.
Sumbul says Priyanka's side has more clean shirts. Priyanka evict Shalin. She says Shalin is flipping every second thus she don't want Shalin to become the captain of the house.
4:45 PM: Nimrit talk with Sumbul. She says she tried to convince Shalin. Sumbul calls Shalin cheap.
Tina asks Shalin why he didn't mess with Priyanka's column. Shalin defend. Tina says to Shalin that he wanted to make Priyanka captain and it is evident. Shalin disagree with Tina.
5 PM: Ankit and Priyanka compete. Shalin make Ankit the winner. Ankit evicts Priyanka. Ankit becomes the captain of the house.
Bigg boss congratulate Ankit for becoming the captain. Archana, Soundarya, Priyanka gets happy.
5:15 PM: Bigg boss asks Priyanka if Ankit's voice will be heard as he is a captain of the house. Ankit and Priyanka says yes.
Bigg boss asks Ankit to shuffle the room. Ankit keep Priyanka and Sajid in room of 2.
5:30 PM: Shalin asks Soundarya not to wrap his towel. Soundarya asks Shalin to pass on his towel. Archana gets angry on Shiv and Shalin for teasing her over using bathroom.
5:45 PM: Bigg boss talks with Nimrit. He makes Nimrit realise that she isn't playing individually. Bigg boss asks Nirmit to start playing her game.
6 PM: Soundarya asks Ankit the reason for not making her priority. Sajid says Ankit chosen friendship over everything and he is touched.
6:30 PM: Ankit realise he didn't choose Soudnarya. He share with Priyanka that he didn't use her brain.
6:45 PM: Nimrit and Shalin discuss about Sumbul's father.
7 PM: Tina asks Shalin why he was saving Priyanka in the task. Shalin and Tin argues with each other. Shalin says to Tina that he is a bad loser. Tina asks Shalin not to talk with her like that.
Soundarya share with Shalin that Tina was asking if she can share bed with him. She add Tina meant apart from her other girl is ok sharing bed with Shalin.
Shalin, Tina and Soudnarya discuss about sharing bed. Tina decides to shift to room of 6.
Shiv and Nimrit discuss with each other about their conversation with bigg boss.
Tina gets angry on Shalin for not defending her in front of Soundarya. Shalin and Tina argues with each other.
9:15 PM: Abdu tells to Nimrit and Shiv that Sajid is sad as he will not get good food. Nimrit decide to feed Sajid secretly.
10 PM: Priyanka asks Ankit if he too think she is villain in his story. Ankit says no. Priyanka claim Ankit's life is sorted.
Archana gets angry on inmates for wasting roti. She says she will not tolerate the wastage of the food.
10:30 PM: Stan decide to make the voluntarily exit. Nimrit, Abdu and Shiv ask Stan if he is crazy.
10:45 PM: Soundarya share with Archana and Priyanka that she is upset with Ankit for not choosing her. Ankit join the talk. Ankit says Sajid was his friend in the house since day 1.
Archana asks Priyanka to let Soudnarya and Ankit talk. She adds in front of Priyanka, Ankit will not be able to speak. Priyanka bursts at Archana of passing the comment. Archana explains the motive behind making the comment. Priyanka and Archana ends up hugging each other
Soundarya cries thinking everyone in the house is playing game. Abdu agrees with Soundarya.
Later, Archana looks for her blanket. Nimrit, Soundarya, Priyanka joins Archana to look for the blanket. They find the blanket with Tina and bitch about her. [Episode Ends]
Also See: