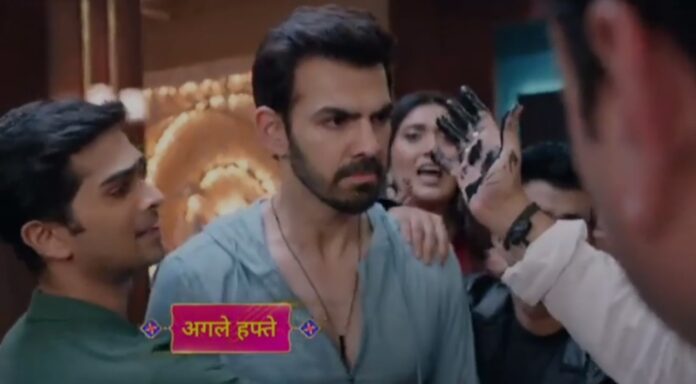 Bohot Pyaar Karte Hai Spoilers, Upcoming Story, Latest Gossip , Future Story, Latest News and Upcoming Twist on SerialGossip.in
Starbharat's show Bohot Pyaar Karte Hai is gearing up with an interesting drama with Ritesh gets a bail and returns his house where infront of Kaamna he expresses his hurt. Other side Indu and Vivek learns the truth and wonders how to tell the truth Ritesh as they can't able to contact him.
Now it will be interesting to see what will happen next? Will Vivek and Indu be able to reveal the truth behind this conspiracy and save Ritesh's reputation? Will Sameer get to know the waiter spilled the secret about his doings to Indu?
In the previous episode we had seen that an auto driver named Heera promised Zoon to take her to Ritesh's house in her auto meawhile the Raina's got to know Zoon went missing. Sunita scolded Anjali for her irresponsible behavior.
Indu got to know this and hurried to her home. Other side Ritesh got arrested. He went through a humiliation. The cops took Ritesh with them to the station. Sameer got happy hearing the news. Sunita made a vow to the society people also in anger she wished Zoon to never return home which angers and upsets Indu so she shouted at her mother.
Heera helped Indu to find Zoon. Zoon fell unconscious. The doctor told the Raina's that Zoon was sensitive and she wanted her father who she was longing for. Ritesh got shocked when Rahul informed him he had no other option other than to spend a night in a lockup.
Indu worried how to make Zoon's environment a less stressful. She then saw a bunch of ID cards which fell from Vivek's pocket. She recalled seeing Rajesh coming to her office earlier that day while Vivek told her how he returned to his village after Ritesh's success party over and unable to reach him out since then.
In the upcoming episode it will be shown that one of the poitician will enter Ritesh's house and tell that he is a curse to their society. He will also announcer that he will paint Ritesh's face with black paint as a punishment and approaches him. Ritesh will look furious and his family will looks on shocked.
To know more about what's happening in Your favorite shows keep checking this space.