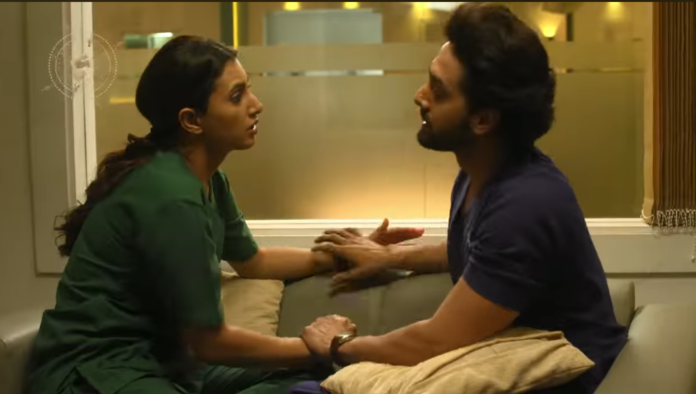 Dhadkan Spoilers, Upcoming Story, Latest Gossip , Future Story, Latest News and Upcoming Twist on SerialGossip.in
Dhadkan becomes has become a popular show. With, Aditi dying, Vikrant has gone into a dark emotional phase, Deepika tries to help out Vikrant, but it will lead to more problems when Vikrant's phase will lead to big challenges for FMS. will be interesting to watch how will the equations be now between Deepika and Vikrant?
In the ongoing track, Deepika doesn't let doubt come in her mind about her talent and make Vikrant also understand how she is not responsible for it. Vikrant imagines Aditi and panics. Vikrant blanks out on various places imagining Aditi. Deepika asks Peroz to be with Vikrant at all times. Esha apologies to Peroz and says she needs a chance to bring Peroz and Mira together. Later, Peroz gets a call from Mira and they patch things up.
Here, Sia and Ansari are treating a lady and seeing the lady and her husband do a business together, Sia puts forward her wish to Ansari about being in equal partnership in Clinic. Ansari ignores the topic. Deepika is stuck wih a case where she is unable to diagnose the actual problem. Nikhil helps Deepika out. Later, Deepika and Sia handle a burn case while Vikrant takes counselling session. Later, Vikrant asks Deepika to come back to her. Deepika feels stressed due to overburdening herself and asks Vikrant to learn from life incidents and not to start things again together.
Deepika goes to Nikhil and shares how she froze in the surgery. She faints, Vikrant sees this and starts her check up while Nikhil calls PC. PC checks Deepika and says she is dehydrated while Vikrant and Nikhil worry. Here, Sia makes Ansari realise how she always did things for her but he always thought selfishly. Ansari feels bad. Later, Vikrant does a big mistake in the surgery due to which a patient dies.
The patient's mom and dad blame Vikrant for mishandling and killing their son. Jamshed thinks to dismiss Vikrant as this might bring bad press to the hospital. Vikrant feels guilty and attempts suicide.
In the upcoming episodes, Deepika will tell PC how she can't handle Vikrant. Vikrant will inform Mr.Oberoi that he is sorry and he is leaving his profession as a doctor. Jamshed will be shocked.
How will Deepika face this next challenge? How will Deepika handle herself?
Will Sia and Ansari patch up? Will Vikrant be able to move on?
Keep checking our site to know more.