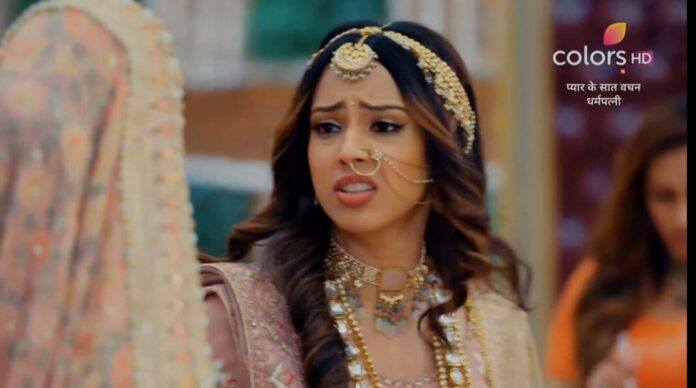 || Dharam Patni Spoilers, Upcoming Story, Latest Gossip , Future Story, Latest News and Upcoming Twist on SerialGossip.in
Colors TV's popular show Dharam Patni is a love hate story of a simple sweet school teacher Pratiksha Parekh and a buisness tycoon Ravi Randhawa. How two different people of different social status and background will come together due to marriage and fall in love eventually will be interesting to watch.
In the previous episode, Ravi ushers Pratiksha into the Randhawa residence. Beeji prepares for the grahpravesh ceremony. Kavya attempts to stop the ritual. Kavya questions Ravi regarding her abandonment in the mandap.
Ravi claims the marriage is unhappy because he married Pratiksha to exact revenge. Mandeep discards the plate. She declares her inability to accept Pratiksha as her daughter-in-law. She claims the residence is hers and she does not want Pratiksha there.
Beeji becomes enraged and declares that the house belongs to them all, but to her first. Amardeep reprimands Ravi for his behaviour. Mandeep attributes the rift between Amardeep and Ravi to Pratiksha.
She verbally assaults Pratiksha and refers to her as a black dot. She describes Pratiksha as classless and impoverished. Mandeep states that Ravi is welcome to stay at the house, but there is no room for Pratiksha.
Ravi contradicts Mandeep and states that he has married Pratiksha and that she will reside in his home. Beeji affirms that she will execute the grahpravesh ceremony of Pratiksha. Pratik declares that he will spare Ravi under no circumstances and return Pratiksha.
In the upcoming episode, Beeji will perform the ceremony. Kavya claims she will commit suicide if Pratiksha enters the home. Ravi advises her not to make threats because nobody cares. Kavya tumbles down the staircase.
To know what happens next stay tuned to Dharam Patni on Colors TV/Voot app and this space.