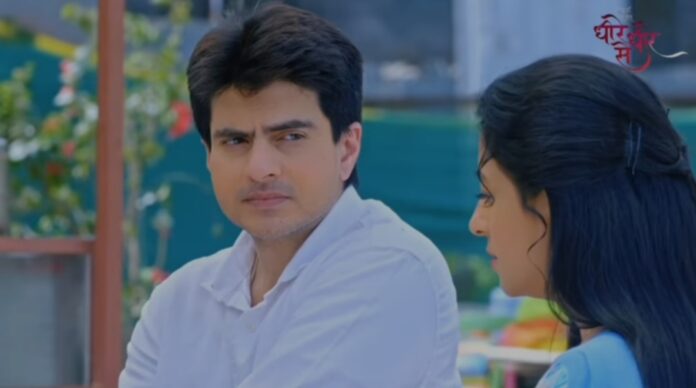 Dheere Dheere Se Spoilers, Upcoming Story, Latest Gossip , Future Story, Latest News and Upcoming Twist on SerialGossip.in
Star Bharat's show Dheere Dheere Se is gearing up with an interesting drama with the cops arresting the builder for his crime with Bhanu's help meanwhile Bhawana gets upset not able to find a lawyer for her Barsati case.
Now it will be interesting to see what will happen next? Will Bhanu accept Bhawana in his house? Will Bhawana find a lawyer for her Barsati case? What will Bhawana do next to find a lawyer?
In the current track it shown that Bhawana feeling bad for Vidya after witnessing Amit's behavior towards the latter. She then gives gift to Raghav for always supporting and helping her. Raghav gets happy and tells her he likes the shirt. Bhawana decides to stitch the torn part of the shirt when Raghav shows her.
Savita questions Raghav the reason behind him not informing Bhawana about Brij Mohan's order. Raghav assures to inform her. Swati acts and says because of this two family's enmity Bhawana is suffering. Savita tells it will end the day Brij Mohan defeat the Shastri's. Raghav gets upset.
The next day Raghav decides to seek the Inspector's help to find an accommodation for Bhawana. He goes to the police station and hear Bhanu telling the inspector about the builder's crimes and leaving the station angrily when the inspector asks proof.
Raghav meets the inspector and tells he also suspect the builder is behind his attack because the latter threatened him once. Bhawana realises the Barsati case hearing is next day after hearing Brij Mohan's conversation with Gaurav.
She postpones her meeting with the broker to finalize the house and goes to meet the lawyer. Gaurav gets confused hearing Bhawana's conversation with the broker.
Cops arrests the builder after Bhanu makes him confess his crimes. Bhawana gets upset when the lawyer refuses to take her case but decides to find a lawyer at any cost.
In the upcoming episode it will be shown that Gaurav will say to Raghav that he has to stop Bhawana from signing an agreement with the broker for the house.
Raghav will get determined to stop Bhawana from losing her hard earned money and rush to meet her. Bhawana will sign an agreement then will take the deposit amount from her bag and forwards it to the broker.
To know more about what's happening in your favorite shows keep checking this space.