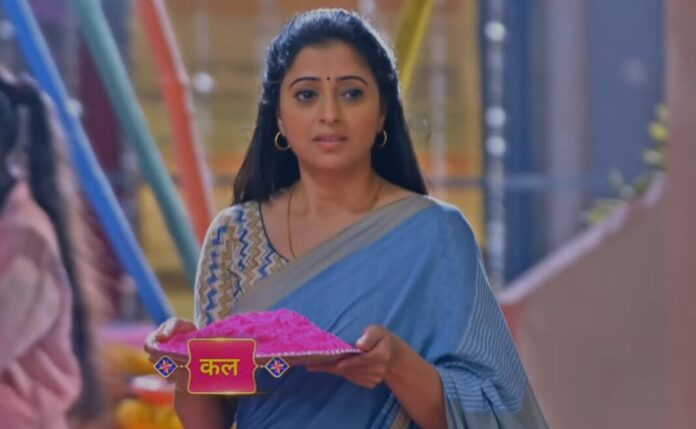 Dheere Dheere Se Spoilers, Upcoming Story, Latest Gossip , Future Story, Latest News and Upcoming Twist on SerialGossip.in
Star Bharat's show Dheere Dheere Se is gearing up with an interesting drama with Raghav and Aanchal persuading Bhawana to be a part of Holi celebration but fails convince her. Now it will be interesting to see what will happen next?
Will Raghav and Aanchal be able to change Bhawana's decision? What will Raghav do to make Bhawana take part in Holi celebration? Will Bhawana choose her happiness?
In the current track it shown that Sangeeta meets Raghav and the latter gets distracted seeing Bhawana through Aanchal's video call so fails to keep up a conversation with the former. Sangeeta advices him to confess his feelings to the one who he likes then leaves the place.
Raghav and Bhawana wishes Holi through Aanchal's video call. Aanchal then teases Raghav then leaves. Savita sees Raghav is looking at Bhawana's room. She gets determined to do anything to stop Raghav from leaving her again.
Later Bhawana enjoys the kulfi which Aanchal gave her. She then shares her childhood memories about Holi celebration to both Raghav and Aanchal. Raghav and Aanchal pleads her to take part in Holi celebration ignoring the other people's words but Bhawana gets angry so scolds them both.
Raghav promises Aanchal that Bhawana will take part in Holi celebration. The next day Bhanu mocks at Bhawana also asks her not to ruin their reputation. Jagjivan gets furious but Bhawana calms him down. They all goes out to celebrate Holi.
Abhishek saves Dimple from a guy. They both wishes each other Holi. Brij Mohan and Bhanu gets into a verbal fight over talking about the land dispute. Here Raghav gets determined to make Bhawana take part in Holi celebration.
In the upcoming episode it will be shown that Raghav will dance to the music with other's. Bhawana will arrive there with a colour powder. Raghav will get determined to confess his love to Bhawana.
To know more about what's happening in your favorite shows keep checking this space.