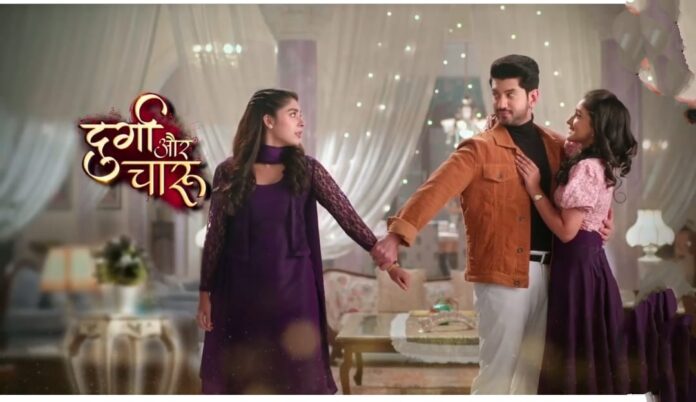 Durga Aur Charu 5th March 2023 Written Update on SerialGossip.in
Episode begins with Raj shri gets shocked when Anirban talked about Charu. On the other hand, Charu tells Durga that Anirban thinks he is hero but hero don't exists in real life. Durga tells her that Anirban saved them like a hero. Charu tells her that hero don't give pain, but heals the pain. She says that Anirban is not bad person and leaves from there. Durga tells herself that she fell for Anirban and how she is going to tell this to Charu.
Raj shri asks Anirban that if he love Charu. She tells him that Abhirup sent him to trap Durga and Charu but it looks like he fell for Charu truly. Anirban recalls the moments he shared with Charu. He tells her that he did not even realise how it happened. Abhirup comes there and tells Anirban that tomorrow he is going to talk to Binoy about the latter and Durga's marriage. He says that they will get Choudharys land after the marriage. And it looks like he need not to call Mihir and it's celebration time. Latika hears that.
Durga and Charu talks about rajabadi slum land papers. Charu says that they need the papers to win the case. They realises that Abhirup must have the papers. Durga tells Charu that they can seek Anirban's help. Charu tells her that Anirban helped them enough already and she don't want to create new problems between Anirban and Abhirup. Durga suggests to steal the papers from Abhirup's house. Charu likes the idea and agrees to steal the papers from Abhirup's house.
In the party, Abhirup tells guests that this case will be last case for Durga and Charu. He gives his success credit to Anirban. Anirban recalls Raj shri's words about Charu. He dances with Abhirup. He hallucinates Charu and dances with her too.
Meanwhile, Durga and Charu sneak into Abhirup's house. They learns about Abhirup's room from their spy and goes upstairs. Anirban sees Charu and wonders that he hallucinated her or not. He tries to go upstairs but Abhirup stops Anirban. Anirban wonders that why he is seeing Charu everywhere.
Durga and Charu sneak into Abhirup's room. They searches the key of locker. Charu finds the locker key and opens the locker. She takes the original papers of slum land from the locker. They hides hearing footsteps. Latika comes there and leaves from there. Charu tells Durga that she has to meet spy. She asks Durga to leave. Durga leaves from there. Anirban wonders that if he really fell for Charu. He sees Durga leaving the house and asks her that what is she doing there.
Charu goes to servant room and gets shocked seeing Abhirup's brother, Abhirup and Latika there. Abhirup's brother taunts Charu and he tries to slap her but she holds his hand. Latika finds the land papers from Charu's bag. Charu wonders that how she is going to prove the land belongs to slum people without these papers.
Episode ends.
Click to read