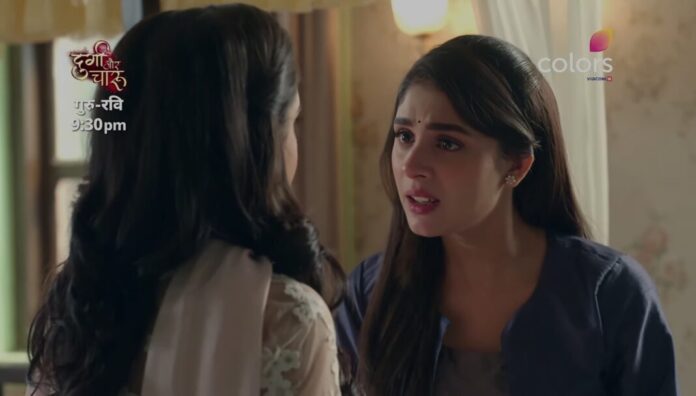 Durga Aur Charu Spoilers, Upcoming Story, Latest Gossip , Future Story, Latest News and Upcoming Twist on SerialGossip.in
Kunal Jaisingh, Rachi Sharma and Adrija Roy starrer Colors TV show Durga Aur Charu never failed to engage audience with its gripping storyline. This is the story of two sisters who got separated after their parents Anirudh and Bondita's death.
Those sisters grow in two completely different households and they became lawyers. Now, Charu got caught by Banerjee's while stealing land papers so it will be interesting to watch that what going to happen in the future episode.
Earlier it's seen that, Anirban removed his face mask and claimed Charu is innocent. Durga and Charu tried to kill Bholi but Anirban stopped them saying that law will punish Bholi. Bholi revealed that Chumki is not Durga's sister but Charu is Anirudh and Bondita's daughter. And it turned out to be Chumki's dream. Police took Bholi from there.
Later, Charu and Durga apologized to each other and hugged each other. Anirban wondered that why he is losing his focus from his goal. He wiped Charu's tears and told her that he is happy in her happiness.
Next day, Durga took Charu to her house. Chumki thought she can't let others find out Charu is real daughter of Choudharys.
In the upcoming episode, Durga will try to tell Charu she love Anirban, but fails. Raj shri will tell Anirban that it looks like he fell for Charu truly. Durga and Charu will decide to steal the slum land papers from Abhirup's house.
They will sneak into Abhirup's room and steal the land papers. Abhirup will celebrate his success and dance with Anirban. Anirban will dance with Charu in his hallucination.
Charu will go to meet spy but caught by Abhirup's brother and Abhirup. Latika will take the land papers from Charu's bag. Anirban will see Durga leaving the house and question her.
What will happen with Charu? Will Durga tell the truth to Anirban ?
All these questions will be answered in the upcoming episodes.
To know what will happen next in your favourite show Durga Aur Charu, stay tuned to this space.