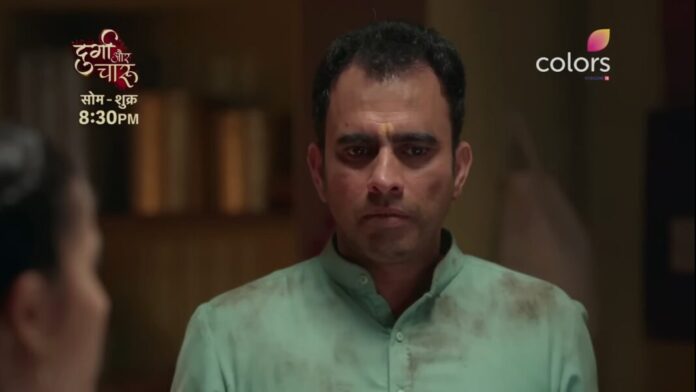 Durga Aur Charu Spoilers, Upcoming Story, Latest Gossip , Future Story, Latest News and Upcoming Twist on SerialGossip.in
Aurra Bhatnagar and Vaishnavi Prajapati starrer Colors TV show Durga Aur Charu never failed to engage audience with its gripping storyline. This is the story of two sisters who got separated after their parents Anirudh and Bondita's death. Those sisters grow in two completely different households.
Now, Durga and Charu meets after 5 years and they gets close without knowing that they are sisters. Charu finds Baanke and she learns about Bholi's evil deeds too so it will be interesting to watch that what going to happen in the future episode.
Earlier it's seen that, Charu tortured Bholi in the jungle. She asked her about Baanke. Bholi's men came there and rescued Bholi. Bholi revealed that she attacked Baanke but he got escaped.
She tried to kill Charu and left from there. Charu screamed for help. Durga understood Charu is in danger but she could not find Charu. Baanke rescued Charu and took her to his house. Durga asked Bholi about Charu.
In the upcoming episode, Few boys will make fun of Baanke. So Charu will save Baanke from them. She will be happy she found her father and hug him. She will tell him about Bholi's evil deeds and go to bring Durga.
Meanwhile, Bholi will pretend like she did not meet Charu. Binoy will scold Durga for accusing Bholi. Chaturbhih will come there and Durga will be relieved seeing him. After some time, Charu will tell Durga that Bholi tried to kill her.
She will take her to Baanke's house. Durga will get happy seeing Baanke. Baanke will ask them that who is Bholi. They will realise that Baanke lost his memory.
What Charu will do to prove her innocence? Will Bholi learn about Baanke being alive?
All these questions will be answered in the upcoming episodes.
To know what will happen next in your favourite show Durga Aur Charu, stay tuned to this space.