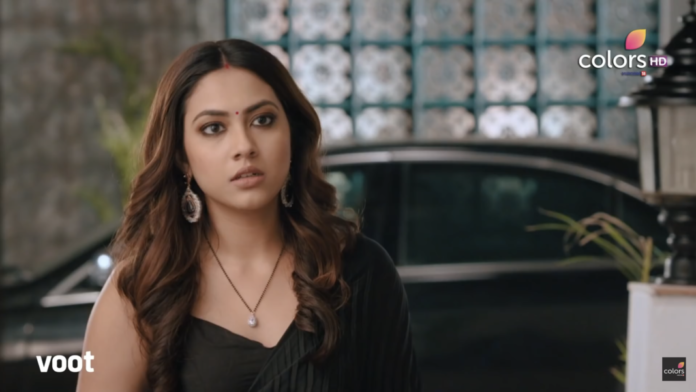 Fanaa Ishq Mein Marjawan 29th March 2022 Written Update on SerialGossip.in
The episode starts with Mohit signing Pakhi to remove her jewels to check if there's any hidden camera in them. Pakhi obliges. Mohit says that a tracking device is fixed in Pakhi's ring and it's technology and the hidden cameras technology are same. Pakhi asks what rubish he is saying, this ring was gifted by Agastya. Pakhi remembers Agastya making her wear that ring. Pakhi says that it means Agastya has been keeping an eye on her all these years. She remembers how everytime Agastya saved her when she was in danger.
Pakhi says that Agastya was keeping an eye everywhere she goes. He knows where she goes and whom she meets. Mohit says that it's a big crime. He asks why Agastya would do like this. Pakhi cries remembering Virat's words, all happening with Ishan and Agastya's words. Pakhi says that Agastya never liked Ishan so that he doesn't want get her marry Ishan. She further says that Virat was right. She says that Agastya attacked Ishan, sent her jail, framed Ishan in organ trafficking case, he gave Ishan wrong medicine and trapped Virat. She remembers her dad and all the happenings after Sameer has returned.
Pakhi says that Agastya must have faked Sameer's death, so he is scared of Agastya. She shouts why Agastya has done like this. She considered him as her best friend and she trusted him, but he only deceived her all these years. She says that because of her many people suffered. Mohi asks Pakhi to calm herself down. Pakhi asks how she can be calm. Pakhi says that she was proud thinking that she's universe favorite child, but she's not since Agastya is controlling her life keeping an eye on her. She shouts that he was stalking her and made fun of her life. She says that she's the most unlucky girl of this world.
Other hand Prema says that Pakhi is lucky to get Agastya as her husband and says to Sameer that his choice is good. Sameer regrets it. Agastya says to Sameer that he knows he is his favorite. He says to Prema that he wants to keep Pakhi happy. Prema says that they will be happy together as they care for each other. Here Pakhi says that she can't throw this ring else Agastya will get to know that he learned his truth. She won't let him know this until she gets her answers. She says to Mohit to place all the hidden cameras back in its places and to not tell anyone about it. Mohit gives Pakhi a device which can help her find hidden cameras.
Pakhi says that Agastya might have tracked her phone too and asks Mohit to check it. Mohit obliges and says that it's not tracked. Pakhi remembers about Taniya and doubts that maybe Taniya got to know Agastya's truth, so Agastya did something with her. She requests Mohit to find Taniya using her phone. Mohit agrees. Pakhi says that she won't spare Agastya for what he did. She leaves from there angrily.
Prema gets worried that Pakhi doesn't answer the call. Agastya checks Pakhi's house recording and says that she isn't at home, so she must be on the way. Mona taunts that Pakhi is always late and shouts. Agastya says that she will come in two mins. Mona asks how he knows when Pakhi didn't answer Prema's call.
Agastya says that he texted her. Other Pakhi is on the way in car. She phones Shubham and apologizes to him for what happened with Ishan. She says that she found the person who is responsible. Shubham asks Pakhi to tell who he is. Pakhi refuses to tell and says that she will see what to do with him.
The episode ends.
Click to read