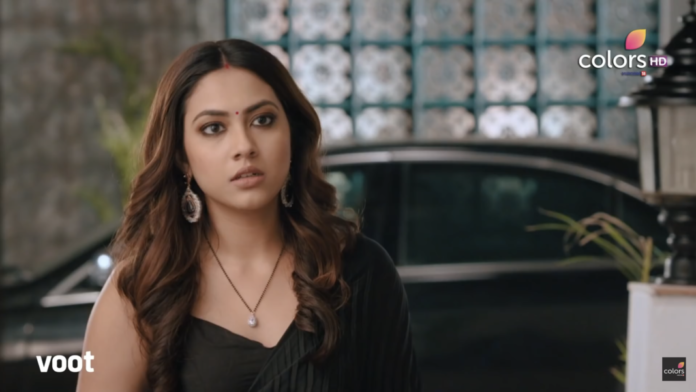 Fanaa Ishq Mein Marjawan Spoilers, Upcoming Story, Latest Gossip , Future Story, Latest News and Upcoming Twist on SerialGossip.in
Colors popular show Fanaa Ishq Mein Marjawan is gearing up for more drama with Pakhi learning a uttar shocking truth.
Previously Agastya suggested Sameer and Prema going for a trip to London so that Sameer's health gets better. Pakhi also agreed with Agastya's suggestion. Prema ended up agreeing while Sameer was helpless. After that Pakhi met her cousin, Mohit and said him that she doubts Sameer is hiding something and requested Mohit to help to fix hidden cameras in her house to find the truth.
Mohit agreed. Pakhi called her family for dinner to Agastya place while Mohit was working to fix cameras at Pakhi's house. Mohit texted Pakhi to come immediately. Pakhi got tensed. She pretexted of bringing Shanaya's medicine and went to her house. There Mohit revealed to Pakhi that there were already hidden cameras fixed everywhere in the house especially in Pakhi's room. He said that even the teddy's eyes are hiden cameras.
Pakhi got dumbstruck on hearing this. Mohit got alerted on hearing beeping sound coming when Pakhi went near the camera fixed by Mohit. The latter realised that there were some hidden cameras. Pakhi will get shocked finding someone was stalking her.
In the upcoming episode it will be shown that Mohit will check Pakhi's jewels to find if they contain any hidden cameras. To Pakhi's shock he will find a tracking device in her ring. Pakhi will remember Agastya gifting her that ring. Pakhi will connect the dots and will conclude that Agastya is the person, who is stalking her. She will realise that Virat was right about Agastya and he is the one who attacked Ishan and sent her to the jail.
Pakhi will also realise that he faked Sameer death as he must have got to know his truth. Pakhi will get shattered knowing his best friend deceived her all these years. But Pakhi will get determined to make Agastya pay for his deeds.
What will happen next? Will Agastya get to know Pakhi knows his truth?
Keep checking this space for latest update of your favorite shows.