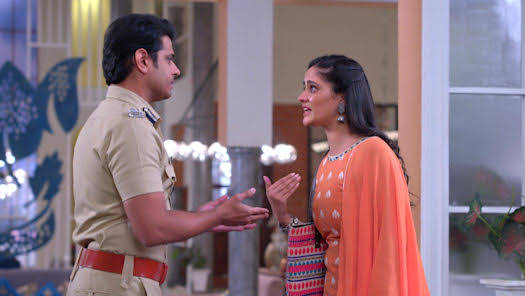 Ghum Hai Kise Ke Pyaar Meiin Spoilers, Upcoming Story, Latest Gossip , Future Story, Latest News and Upcoming Twist on SerialGossip.in
Star Plus popular daily soap Ghum Hai Kise Key Pyaar Meiin have garnered a huge amount of audience. The gripping storyline filled with twist and turns makes it engaging to the viewers. Previously, Virat tried to stop Sai from revealing the truth to Pakhi.
She gave him a deadline and proclaims after that she will take Vinayak to her house. Sai determined to get her son back, while Virat tried to find the opportunity to tell Pakhi about the truth.
Meanwhile, Pakhi got furious at Sai for getting close to her son and warned her to concentrate on Savi instead of Vinayak. Whereas, Pakhi received a letter from an unknown person. She notified about it to Virat while he got suspicious.
In the current track, Sai helps Vinayak to repair his clay house which got broken by her. He praises her and says that she made it better then the previous one. At that time Pakhi comes there and gets irked seeing Sai's behavior. She takes Vinayak away from there while Sai becomes sad.
Here, Sai determines to get Vinayak back and repairs her house. She brings stuffs for him and buys new gifts to surprise Vinayak. Savi gets confuse seeing it and ask about the matter.
Sai tells Savi that she is buying gifts for Vinayak so that he can enjoy his time with them. The latter questions that Vinayak lives with his parents then why will he stay with them? To which Sai makes some excuses.
Ahead, Karishma gets a surprise from Mohit. He gives her a new car and goes to spend some quality time with her. He also tales leave from the office and tells her that he will only focus on her, while the latter gets elated.
Bhavani gives a speech in front of all the ladies. She motivates them to gives vote, while the women's starts whispering about Pakhi's operation and says that she cannot become a mother. Meanwhile, Pakhi takes a stand for herself and gets praised by everyone.
Later, Savi and Vinayak participate in their school competition for clay painting. Chavans and Sai cheers for Vinayak, while Pakhi gets irked seeing her behavior. They taunts Sai that why she isn't supporting her own daughter? Whereas, she shows her interest in Vinayak while Pakhi gets suspicious about her behavior.
Now in the upcoming episode, Sai will run towards Pakhi and ask about Vinayak. The latter will point gun at Sai and ask her to step back. She will say that she won't give her son to anyone, while Sai will face her fearlessly.
Pakhi will point the gun at her head and threatens to kill herself. At that time Virat will come there and becomes shocked seeing the scenario. He and Sai will try to stop Pakhi, while they all will hold the gun and it gets fired.
Will Sai be able to stop Pakhi?
Will Pakhi give Vinayak to Sai?
It would be interesting to see what happens next on the show.
Stay tuned with us for more news, Spoilers and written updates of Ghum Hai Kise Key Pyaar Meiin.