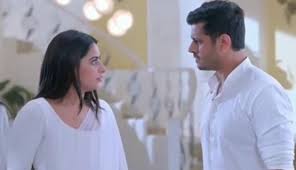 Ghum Hai Kise Key Pyaar Meiin Spoilers, Upcoming Story, Latest Gossip , Future Story, Latest News and Upcoming Twist on SerialGossip.in
Star Plus show Ghum Hai Kisikey Pyaar Meiin is one of the most loved shows on Indian television. Right from the time of its inception, the show has been entertaining the masses.
In the earlier episode, Pakhi lashes out at Sai after finding out about the cause of Samrat's death. She prohibits Sai from attending Samrat's funeral, while the latter accepts the punishment remembering about Samrat's last wish. She tries to explain herself, but Pakhi denies to give a chance to Sai. Whereas, everyone gets emotional seeing Samrat's gifts for the family.
Here, Chavans shows their support towards Sai and gets concerned for her. Pakhi becomes irked seeing everyone pampering Sai because of her baby and gets jealous of her. She accuses Sai for snatching her rights to be a mother and getting her husband's love. She decides to throw Sai out of the house, but Bhavani stops her.
Bhavani also blames Sai for killing Samrat but declares that she can't let her leave the house as she is carrying Virat's child. Pakhi gets angry at Bhavani and calls her biased. Whereas, Virat takes a stand for Sai and stops Pakhi from uttering nonsense.
Ahead, Pakhi curses Sai that she won't be able to live happily while everyone gets shocked. Mansi tries to stop Pakhi and ask her to accept the truth, but latter cries remembering Samrat. Virat and Sai also gets flashes of Samrat and becomes sentimental.
Sai confronts Virat that if he also blames her for Samrat's death? To which the latter denies and consoles her. Whereas, Ninad comforts Virat and aks him tk stay strong. Meanwhile, Pakhi gets furious seeing Bhavani's care towards Sai.
Later, Pakhi denies to eat anything from Sai's hand while the later takes a stand for herself and requests Pakhi to stop her allegations. Sonali and Shivani ask Sai not to shout at Pakhi and insists her to understand the latter's situation. Whereas, Pakhi stays firm in her statement and Chavans gets shocked seeing Sai wearing the garland.
Now in the upcoming episode, Sai will scream at Pakhi that her curse has worked. She will proclaim that she won't be able to live happily ever after and cries stating that Pakhi will get happiness seeing her in pain. Virat will glare at Pakhi and calms Sai down. He will send her to the room, while the latter feels dizzy and falls from the stairs. Whereas, Ashwini and others will get shocked seeing it and shouts her name.
Will Sai's unborn child be able to survive?
Will Pakhi be able to forgive Sai?
It would be interesting to see what happens next on the show.
Stay tuned with us for more news, Spoilers and written updates of Ghum Hai Kise Key Pyaar Meiin.