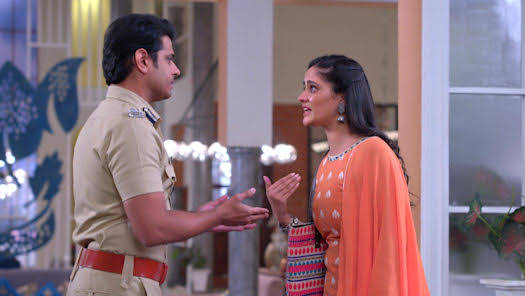 Ghum Hai Kise Key Pyaar Meiin Spoilers, Upcoming Story, Latest Gossip , Future Story, Latest News and Upcoming Twist on SerialGossip.in
Star Plus popular daily soap Ghum Hai Kise Key Pyaar Meiin have garnered a huge amount of audience. The gripping storyline filled with twist and turns makes it engaging to the viewers. Previously, Sai tricked Virat to make him confess the truth.
Sai lashes out at Virat for hiding it from her and gave him a warning that he can't keep her son away from her anymore. She picked Vinayak from school and spended sometime with him and Savi.
Whereas, Pakhi got worried for Vinayak and became furious after checking the CCTV footage. She complained to Virat that Sai picked their son without their permission while Virat went to pick Vinayak and got a warning from Sai.
In the current track, Virat tries to make Sai understand about his perspective. She lashes out at him for not thinking about her pain. She also gives him a deadline to tell the truth to Pakhi. Virat then takes Sai along with Vinayak and Savi to Chavans house.
Here, Pakhi and Bhavani rebukes Sai for taking Vinayak without their permission. Sai declares that Vinayak is not Pakhi's son, to which Virat gets shocked. Pakhi replies that she haven't given birth to Vinayak but he will always be her own son.
Virat tries to handle the situation while Sai goes away from there. Sai gives sweets to everyone sharing her happiness. She also notify Usha about the truth of Vinayak. The latter gets emotional along with Sai.
Ahead, Virat takes Pakhi to the restaurant in order to tell her the truth. She gets suspicious about his behavior and ask the reason for bringing her to the restaurant. He tries to talk to her regarding Vinayak and Sai's bond, but the latter gets furious and denies to talk about it.
Pakhi declares that Vinayak is only her son and ask Sai and Virat to stay away from him. She denies to share her son and leaves from there. Meanwhile, Mohit and Virat goes to Sai's house in order to bring Karishma.
Later, Virat reveals the truth about Vikrant to Chavans and proclaims that he trapped Karishma because he belongs to the other political party. Omkar gets furious at Bhavani and says that everything happened because of her political career.
Now in the upcoming episode, Vinayak will win an award and tells about it to his family. Pakhi and Sai along with Virat will get happy for him and starts clapping. Vinayak will say that he wants to dedicate his trophy to his mother.
He will look at Sai and Pakhi, while they smiles and starts moving towards him. Virat will look at them and gets worried. He will think that he haven't told Pakhi that Vinayak is Sai's son and becomes tensed thinking that what he will do?
Will Virat be able to tell the truth to Pakhi?
Will Pakhi let Sai take Vinayak?
It would be interesting to see what happens next on the show.
Stay tuned with us for more news, Spoilers and written updates of Ghum Hai Kise Key Pyaar Meiin.