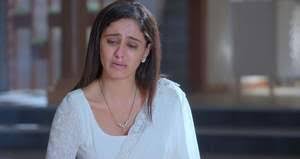 Ghum Hai Kise Key Pyaar Meiin Spoilers, Upcoming Story, Latest Gossip , Future Story, Latest News and Upcoming Twist on SerialGossip.in
Star Plus popular daily soap Ghum Hai Kise Key Pyaar Meiin is grabbing the attention of the audiences with its high voltage drama. The curiousity to know whether Sai will be able to conceive or not is keeping the viewers hooked to their television screens.
In the earlier episode, Pakhi gets furious at Sai and blames her for Samrat's death. She curses the latter, while everyone gets shocked. Pakhi also punishes Sai and prohibits her from attending Samrat's funeral, while the latter gets heart broken and expresses her agony.
Here, Virat and Ashwini shows their concern towards Sai and ask her to go inside her room. Whereas, the latter feels dizzy and falls from the stairs, while Chavans gets shocked and admits her to the hospital. Meanwhile, Devyani accuses Pakhi for it and gives a warning to her.
Virat gets devastated learning about Sai's miscarriage, while Ashwini and Ninad tries to console the. Sai gets discharge and goes to meet the doctor. Virat and Sai gets shocked learning that she won't be able to conceive in future.
Ahead, Ashwini ask Virat to be strong in order to support Sai. Whereas, they goes inside the Chavan Niwas and tries to hide the truth, but Sai reveals about it in front of everyone.
Bhavani gets furious at Pakhi and accuses her for Sai's condition. She goes to Pakhi's room and drags her out of it. She reveals about the news to Pakhi, while the latter also gets shocked and cries for Sai's loss. She tries to explain herself and declares that she haven't cursed the baby.
Later, Bhavani rebukes Pakhi and orders her to leave the house. Mansi and Pakhi's mother takes a stand for the latter and proclaims to support her. Mansi calls out Bhavani for her biasness and declares to leave the house along with Pakhi. Everyone gets stunned, while Sai ask them to stop.
Now in the upcoming episode, Bhavani will take Sai and Virat to a doctor and requests the latter to treat Sai. She will say that she wants the heir of their family through Sai, while the doctor will notify that Sai can become a mother by two ways. He will declare that either they can adopt a child or can go for surrogacy. Whereas, Sai will ask Virat that what he will prefer? To which he will reply that he is against both the options. Meanwhile, Sai will get shocked hearing Virat's reply.
Will Sai be able to become a mother?
Will Pakhi forgive Sai?
It would be interesting to see what happens next on the show.
Stay tuned with us for more news, Spoilers and written updates of Ghum Hai Kise Key Pyaar Meiin.