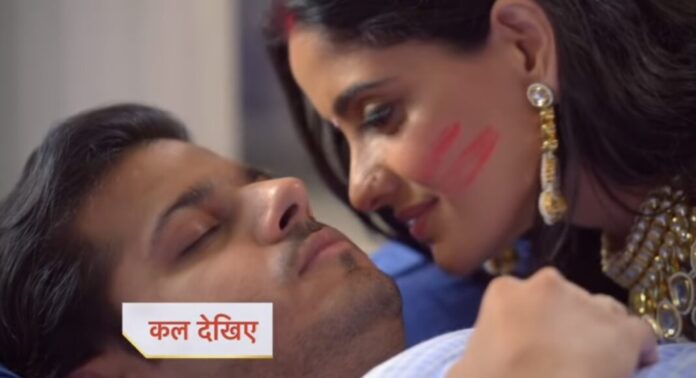 Ghum Hai Kise Key Pyaar Meiin Spoilers, Upcoming Story, Latest Gossip , Future Story, Latest News and Upcoming Twist on SerialGossip.in
Star Plus popular serial Ghum Hai kise Key Pyaar Meiin is gearing up for some intense drama and interesting twists in the upcoming story.
In the earlier episode, Devyani forgives Sai and both reconcile. They shares their happiness of being back to the track of friendship and Devyani notify Sai that Pulkit helped her to realise her mistake. Meanwhile, Sai shares her pain and cries remembering her happy moments with Virat.
Whereas, Devyani notices Sai's behaviour towards Virat and concluded it to be love. She tries to make Sai realise her feelings for Virat, but latter denies. Devyani made Sai to close her eyes and ask her to think about the only person she wishes to see when she goes through any situation.
Here, Sai smiles seeing Virat and apprises Devyani about it. Meanwhile, the latter gets excited and announces about Sai being in love with Virat. Sai takes sometimes to realise her feelings and then she also gets excited and screams about her love.
Sai shares her happiness with Devyani, while latter ask her to propose Virta. Sai hesitates and then imagines Virat in front of her. She goes near him and bends down. She pours her heart feelings out and tells him about her love.
Ahead, Virat denies to accept Sai and reminds how she hurted him. He tells that she left him when he needed her the most and states that how she have blamed him for the mistake which he had never done.
Sai apologises to Virat but then see that it was just her imagination. Whereas, Virat wakes up from his sleep hearing Sai's loud noises. He comes out to see her while Devyani pokes Sai to take the advantage of the situation and confess her love. But, Sai makes Devyani understand about the problem and states that first she will take his forgiveness.
Later, Virat taunts Sai and goes away while Devyani assures to help Sai in her plan. Meanwhile, Sai admires Virat's sleeping face and gets close to him. She promises to protect his smile and gets overwhelmed by the feeling of love.
Now in the upcoming episode, Sai will read her horoscope and learns that she will get close to Virat as the difference in between them will get over. She will then realise that he doesn't even allow her near him and gets worried. She will continue reading the newspaper and learns that she should wear rainbow colour to attract her partner, while she gets an idea. She will become excited stating that she will surely get Virat's forgiveness. She will then apply holi colours to Virat while he was sleeping and gets close to him.
Will Sai manages to get Virat's forgiveness?
Will Virat learn about Sai's feelings?
It would be interesting to see what happens next on the show.
Stay tuned with us for more news, Spoilers and written updates of Ghum Hai Kise Key Pyaar Meiin.