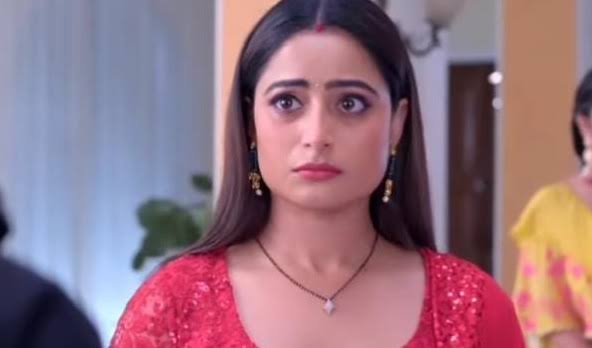 Ghum Hai Kisi key Pyaar Meiin 19th November 2022 Written Update On SerialGossip.in
Episode starts with Ashwini deciding to buy a gold chain for Sai. She thinks about it but doesn't share her thoughts with anyone. She gets doubtful that whether she will be able to give the chain to Sai or not, as well as whether the latter will accept her gift or not. She still buys the chain, while Sonali confronts her asking that for whom she is taking it? The latter makes some excuse and replies that she is just keeping it with herself. Sonali proclaims that Ashwini has already brought a gold chain for Savi, and mocks that she is taking it for Sai. Everyone looks at Ashwini while Sonali smirks decoding Ashwini's intentions.
Here, Ashwini handles the situation and lies that she isn't buying it for anyone and is just keeping it for spare. Meanwhile, Pakhi feels hurt hearing their conversation and then goes towards Ashwini asking her to taste the sweet dish made by her. Ninad ask her to come towards him stating that he will do it but Ashwini stops him proclaiming that Pakhi asked her to do it.
Ashwini takes the sweet dish and tastes it. She says that it isn't sweet and Pakhi needs to add more sugar, while Sonali passes a comment that the latter doesn't have any sweetness left in her life that she will make the dish sweet. Ashwini replies back to Sonali, while Pakhi looks lost and says that her life has become complicated.
Elsewhere, Chavans feels bad for Pakhi while Sonali confronts Karishma and ask that why doesn't want to give heir to the family. The latter gets furious and ask Sonali to question the same from Mohit. She proclaims that her son will give the apt answer for her behavior. She goes away from there while Sonali gets confused and decides to find about the matter.
Savi comes to the Chavans house along with Savi while Ashwini and Ninad gets elated. The latter puts off evil eyes from her and praises the latter for her attire. Everyone gathers to welcome her while Virat starts introducing her to the family members. She gets happy to meet them and forms a new bond. Whereas, Sai gets elated for her daughter.
Ahead, Virat introduces Pakhi as elder mother to Savi but the latter denies to call her that, she proclaims that she have only one mother and that is Sai. She calls Pakhi as aunty while the latter recalls her turmoil. She questions that if Pakhi is okay with the name, to which she replies positively. Ashwini sets the clothe and kept the red water on the entrance. She ask Savi to come inside the house dipping her legs into the water and leaving her footsteps on the clothe.
Savi performs the ritual correctly but at the last step she was about to fall, at that time Sai runs towards her and mistakenly walks on the red water and leaves her footsteps on the clothe. Everyone gets shocked seeing it while Savi becomes happy and says that they both have done the same ritual. Sai says that it was a mistake while Pakhi agrees to her and starts cleaning the marks. Everyone feels bad for Pakhi's state.
Further, Chavans performs a ritual with Savi and makes her sit on the weighing scale and then starts weighting her with sweets, stating that they will distribute all the sweets to the poor people. Vijaya ask if they have done the same ritual with him to which Virat makes him understand that they were so happy to get him that they forgot about the rituals and assures that they will do it in the future. He diverts Vinayak's mind while Bhavani cuts Savi's hair in name of some ritual. She was about to go when Sai stops her while everyone gets stunned.
Precap:- Virat gives a paper to Savi while she ask about it. He makes her open it while Sai reads it and finds it to be the admission form of Savi's new school. Virat tells that Savi will also go to the same school as Vinayak as it's the best. Sai confronts him and scolds that he have taken a decision without her consent,
while he tells them that he appointed the interview with the principal for Savi's admission on the next week. He also tells that he appointed a tutor who will teach Savi about the interview, while Sai questions that if he is doubting her teaching skills and proclaims that Savi can easily clear the interview. She ask him to keep it the next day while he agrees and challenges her teaching.
Also See: